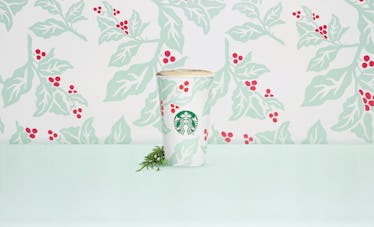 Starbucks' New Juniper Latte Has Me So Pumped For This New Holiday Flavor
Courtesy of Starbucks
When you think about holiday drinks at Starbucks, instant classics like the Peppermint Mocha and the Gingerbread Latte probably come to mind. However, the coffee haven recently unveiled a new seasonal beverage that you can add to your wintry "to-drink" list. That's right: On Nov. 27, Starbucks' Juniper Latte was released in stores throughout the United States — so get your taste buds ready. This holiday drink, which boast a fitting "evergreen aroma," is the perfect coffee beverage to sip on while you're decorating your house for the upcoming season.
If you're a serious Starbucks drinker, you probably remember the Wintry Juniper Latte that was available at the Starbucks Reserve Roastery in Seattle, Washington in 2017. The seasonal beverage wasn't available nationwide, which was a bummer for coffee drinkers who were curious about its flavor (ahem, like me). Thankfully, the Juniper Latte was inspired by the Wintry Juniper Latte, which makes me even more excited to try it.
Once you find out what the new latte is made of, I'm sure you'll be just as stoked. I'll start by saying that the new seasonal drink is made with Starbucks signature espresso, which means it'd be the perfect holiday beverage to start your chilly mornings with.
To make the Juniper Latte, the Starbucks signature espresso is mixed with steamed milk and juniper syrup, according to Starbucks. Then, the holiday drink is topped with "velvety foam" which holds a sprinkling of pine-citrus sugar. Apparently, the finished product showcases wintry flavors of juniper, sage, and citrus. Plus, like I previously mentioned, the latte puts off an "evergreen" aroma that'll certainly put you into the holiday spirit. Whether you're decorating your tree or hanging up evergreen wreaths, the Juniper Latte should be the perfect drink to sip on.
Just like Starbucks' other holiday beverages, the Juniper Latte won't be around forever. In fact, it'll only be available for a limited time while supplies last. With that being said, head to your local participating Starbucks store ASAP and give one a try. Who knows, maybe it'll become your new favorite holiday drink.
While you're at Starbucks preparing your Juniper Latte order, take a look at all of the new holiday merchandise. Along with Juniper Latte, the company released a handful of festive gifts which includes a new Starbucks x ban.do collection that'll put you into the holiday spirit with every sip. It features cozy plaid designs and red flowers, which mimics the look of a "perfectly gift-wrapped gift," per Starbucks.
So, if you were hoping to buy your coffee-loving friends something for the holidays, why not consider a Starbucks x ban.do mug or tumbler? Thanks to the designs in the collection, you won't have to worry about wrapping anything.
Apparently, Starbucks released even more in-store holiday merchandise on Nov. 27, which includes candy cane mugs and glitter tumblers. (I don't know about you, but I've got my eyes open for the glittery ones.) So, if your friends are into traditional holiday cup decor, maybe they'd be into one of those options.
Regardless of which mug or tumbler you're drinking out of, be sure to taste Starbucks' new Juniper Latte. It'll only be around for a limited time, so enjoy one during the holiday season.