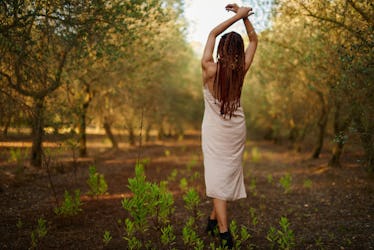 The Spiritual Meaning of the Hunter's Moon Will Remind You Of Your Hidden Strength
With October coming to an end, and a powerful full moon headed our way, there's only one thing left to do, and that's release. The lurking shadows of Venus Retrograde may have put a damper to the start of the season, but the spiritual meaning of the Hunter's Moon 2018 is here to shed light on our personal power while reminding us of our self-worth. The upcoming full moon will illuminate the sky in the earthy sign of Taurus on Oct. 24 at exactly 12:45 p.m. ET. With that being said, let's do a mental rewind, and think back to this year's new moon in Taurus that took place on May 15.
If you can't remember, try looking through emails, text messages, and social media posts, as that always tends to do the trick. Now, after you have somewhat of an idea, ask yourself the following: What's changed for me in terms of my values, income, and self-worth? What's physically materialized for me since that particular moment? Remember, full moons are a symbol of completion. In fact, similar to the ending of a movie, full moons can serve as a culmination of sorts; perhaps the end of an important life cycle. This is your moment of release, whether that be something that no longer serves you, or simply something you need to let go of in order to move forward.
I know I tend to say this every now and then, but this particular lunation might feel heavier than most, and I'll explain why. For starters, Venus, Taurus' ruling planet is (still) retrograde, swimming in the depths of Scorpio, and like I told you all during Libra season: There's no way we can experience Venusian energy (Libra and Taurus) at its maximum potential when Venus is traveling backward, not to mention detriment in the sign of Scorpio. Plus, to top it off, we're at the very beginning stages of Scorpio season, who just so happens to be Taurus's polar opposite. Granted, full moons bring completion, but it's simply because they're a call to find balance.
The full moon that occurs during every single astrological season will always directly oppose the sun, as the moon is made full with the opposing sunlight. Anyway, I digress. Before I get tongue-tied giving you all a cosmic ramble, let's talk more about the upcoming Hunter's moon, and the energy that's coming along with it.
The Hunter's Moon 2018
As I previously mentioned, tomorrow's full moon in Taurus comes fully loaded, so it's important that we mentally prepare ourselves. Now, by no means am I saying to cancel any previously made plans or start overthinking things. On the contrary, astrology is here to help us grow and evolve spiritually.
With that being said, tomorrow's full moon in Taurus will be (conjunct) sitting within 1 degree of electric Uranus in Taurus, while opposing both Venus Retrograde and the sun in all-or-nothing Scorpio. Remember how I said that full moons are a call to balance? Well, try doing that with Uranus and Venus Retrograde hitching a ride on the Taurus-Scorpio axis. Naturally, we'd expect the sun in Scorpio to oppose the moon in Taurus, as that is your typical full moon; not the sun conjunct Venus retrograde in Scorpio versus the moon conjunct Uranus in Taurus. Now do you see why it's heavier than usual? Now, I'm sure you're over there thinking... WTF does this all mean, Valerie?
Sun And Venus Rx In Scorpio Versus Moon And Uranus In Taurus
One thing's for sure: Expect the unexpected, in terms of your relationships, values, and self-worth. The reason I say that is, Uranus is sporadic, electric, and quick as lightning. You never know what you're going to get when Uranus is involved. For the record, surprise news isn't always "bad" news per se. So, don't let the eeriness of Scorpio season get the best of you. However, with the moon conjunct rebellious Uranus, there definitely could be sudden revelations, shocks, or surprises, regarding our current normalcy, aka our security and comfort. Truth is, Taurus is notorious for being stubborn, as it loathes change, but alongside the revolutionary planet Uranus, sudden change is inevitable.
Also, where do you think the energy of Taurus stems from? That's right, lady Venus, and she's locked in the underworld retrograde in Scorpio. Remember, Scorpio is constantly regenerating itself, while Taurus governs all that we can see, hear, touch, smell, and taste. Meaning, this full moon can ignite, and potentially materialize, (Taurus) a part of you that's been lurking or hidden beneath the surface (Scorpio). So, guaranteed, whatever situation is headed our way, has been quietly brewing for quite some time now. Except this time, we have no choice but to come face-to-face with it. Stay grounded, stargazers. Remember who you are.