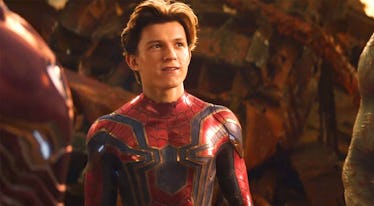 'Spider-Man 2' Just Revealed It's Official Title & It Hints At A Major Setting Change
Marvel
After the... *ahem*... not-so-great condition that Marvel fans most recently saw Spider-Man in, we are all super curious about what the web-slinger's upcoming standalone sequel is going to look like. After all, the new Spider-Man movie will be the first Marvel film to follow next year's conclusion to the Avengers: Infinity War two-parter, which is guaranteed to shake up the Marvel Cinematic Universe like never before. Well, now we finally know that Spider-Man 2 will be titled Far From Home, and that title might be telling us a lot more than it initially seems. Let's break down everything we know about the upcoming sequel, Spider-Man 2: Far From Home.
It should come as no surprise to diehard Marvel fans that Spider-Man actor Tom Holland was the one who let the new movie title slip in an Instagram video. The actor has developed a bit of a reputation among fans for spilling Marvel secrets in interviews and social media posts, and he continued the tradition in a new Instagram video, in which he mentions that he has received the movie's script and then briefly flashes an iPad screen with the movie's previously unannounced title clearly displayed as Spider-Man: Far From Home. Check out the video for yourself below, but be warned that it does contain a major Avengers: Infinity War spoiler, if you still have not seen that for some reason.
The Far From Home subtitle establishes the new Spider-Man films' theme of including the word "Home" in its titles, and it also clues fans in on the fact that the new movie will not be primarily set in New York City, unlike every other major Spider-Man film in the past. A couple of months ago, Marvel president Kevin Feige confirmed that Spider-Man: Far From Home will be set in locations across the globe, especially London, where it is set to begin production next month. This marks the first time that a Spider-Man film will not be primarily set in New York, following a total five movies starring Tobey Maguire and then Andrew Garfield as the web-slinger all being set solely within New York City.
The reason for the scenery change will be a direct effect of the events of next year's Avengers: Infinity War follow-up. As Tom Holland bluntly stated in his video, fans may be confused about the future of Peter Parker since he is one of the several heroes who ends up disintegrating into dust at the end of Infinity War, but obviously, Spider-Man will somehow make it out okay given that he is starring in his own movie shortly after the Infinity War follow-up is released next summer. Spider-Man: Far From Home will be the first Marvel movie to come out after the new Infinity War conclusion, and will usher in Phase Four of the Marvel Cinematic Universe.
The other big news about the Spider-Man sequel is that we know who the villain will be. Jake Gyllenhaal is confirmed to play Mysterio, a Marvel Comics villain who is a master of illusions, hypnotism, and magic, in the upcoming movie. Michael Keaton is also set to reprise his role as Vulture, the main antagonist from the first film, and Peter Parker's closest allies Ned (Jacob Batalon), MJ (Zendaya), and Aunt May (Marissa Tomei) are also confirmed to be in the new movie. We are still waiting to see if Tony Stark makes it out of the next Avengers movie alive and could possibly appear in the sequel as well.
Spider-Man: Far From Home will swing into movie theaters on July 5, 2019, which is a little over two months after the upcoming Avengers: Infinity War conclusion premieres on May 3, 2019.