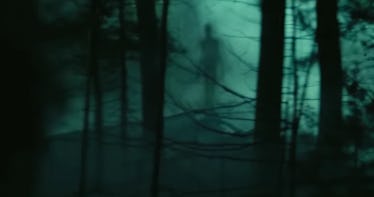 The 'Slender Man' Trailer Is Here, So Prepare To Sleep With The Lights On
Pennywise and David, it appears as though you're going to have to share the spotlight, because a well-known figure in the horror genre is making his way to the big screen. The Slender Man trailer is here, and it will surely cause all viewers to sleep with one eye open. If scary movies aren't your particular cup of tea, please proceed with caution.
Although Stephen King's infamous child-eating clown (Pennywise) and Adam Ellis' alleged haunting ("Dear David") have gotten our attention as of late, Slender Man just seeped back into our consciousness with his eery movie teaser. The character, who surfaced in 2009 through Creepypasta (horror-related stories that made the rounds on the internet), is the perfect villain you love to fear. He's ominous, odd-looking (when you can actually catch good glimpse), and of course, extremely dangerous.
The mastermind behind the figure is Eric Knudsen, who entered two photos of his creation into a "paranormal pictures" Photoshop contest, according to Gawker. From there, the character made his way into hearts and black souls of the horror community. People began creating their own versions of Slender Man and decided to make up stories regarding his origin.
Although things got cooking with Slender Man on the forums of "Something Awful," that's not where he stayed. According to Gawker, Knudsen revealed in an interview with the fan site slenderman235 that he was shocked to see how his character evolved. He said,
I didn't expect it to move beyond the SA forums. And when it did, I found it interesting to watch as sort of an accelerated version of an urban legend.
Those who cannot get enough of all-things creepy, kooky, mysterious, and spooky can mark May 18 on their calendars. That is when director Sylvain White's adaptations of the character will makes its way to silver screens across the nation. Go find your nightlight now, just in case you need it this spring (no judgment).
Personally, I'm a sucker for this type of film. Spooky shadows, complete turmoil, a couple of gross scenes here and there (though I can definitely do without that shot of the maggots) — if you ask me, it's all a blast.
Unfortunately, Slender Man's story took a horrific turn in real life. In 2014, two 12-year-old girls in Wisconsin took their obsession with the fictional villain too seriously, and there were frightening consequences. Anissa Weier and Morgan Geyser — who were both 12 years old at the time — attempted to sacrifice their classmate, Payton Leutner, to Slender Man. They stabbed her 19 times and left her to die in the woods, according to Fox News. The young girl survived the attack, crawled out of the woods, and was found by a passing bicyclist. Both Weier and Geyser confessed their crime, and Geyser (who did the stabbing) pleaded guilty to first-degree intentional homicide, CBS News reports. Geyser will be sentenced in February, and prosecutors asked that she is given at least 40 years in a mental hospital. Weier, on the other hand, was sentenced to 25 years in a psychiatric institution.
Between Slender Man and the upcoming film, Winchester (which is set to debut in early 2018), horror seems to be making a comeback in the box offices, largely thanks to its success in 2017 (and yes, Pennywise, we won't forget to give you credit for that). Get Out, It, and Happy Death Day made $733 million in ticket sales in 2017, according to The New York Post. So despite the fact that last year gifted us with IRL horror (largely due to politics), people still wanted a scary escape. Dr. Margee Kerr, a sociologist specializing in fear, told The Post,
Horror and startle can distract us from the everyday thoughts and concerns. We're not thinking about our bills, about the future of the economy, about health insurance — we're completely in the moment and feeling powerful thanks to the cascade of chemicals released in times of threat.
Last year was the biggest box office year for horror, The Post further reports, so here's to hoping that 2018 exceeds those numbers (or at least comes close). Though we're ready to be spooked, we need to remember that this is an art form — one that is not to be recreated in real life.