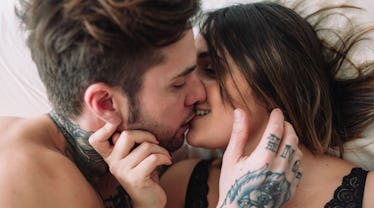 This Is The Sex Dream You'll Have Tonight, Based On Your Myers-Briggs Personality Type
Many believe that dreams are a meaningless result of random brain activity, while others insist that they're secret messages from our subconscious minds. Although no one can say for sure, we've all likely had the experience of waking up and remembering a wild sex dream. Maybe it was a hot sesh with your crush in an exotic locale, or a quickie with a celebrity in your parents' bed. Sex dreams can be super weird, yes, but anticipating the sex dream you'll have tonight based on your Myers-Briggs personality type can be a fun way to explore how the themes in your waking life translate to the dream world. When discussing sex dreams, it's always good to remind ourselves that they're a totally normal and natural thing, regardless of how bizarre they may seem.
"The important thing to remember about sex dreams is that they aren't necessarily about a physical union you want but rather a psychological union you need," professional dream analyst Lauri Loewenberg told Elite Daily. If you're wondering what your personality type might prompt you to dream about, then I've totally got you covered. Based on your Myers-Briggs personality type, here are some examples of dream themes that could pop up in the future, if they haven't already.