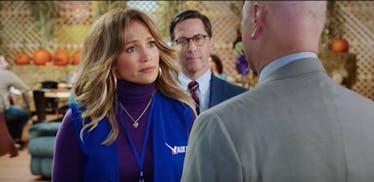 The 'Second Act' Trailer Is Basically 'Maid In Manhattan' For Career Women & J.Lo Is Slaying
YouTube/STXFilms
J. Lo, welcome back to the wonderful and wacky world of romantic comedy. Nice to see you again! You've contributed so much to the genre — even Monster-in-Law. The Second Act trailer is finally here and now the triple threat (or is it quadruple? She is a producer and fashion designer) is playing a down-on-her-luck woman looking to start over in her career who "Cindarellas" — or pretends to be something she's not — her way into a bigtime job.
"Do you ever look at your life and wonder how you got there?" her character Maya asks over a shot of her sighing pensively on a subway.
Maya appears to be a crossroads. She's ready for a new employment chapter, but she's facing the roadblock of competing with "the educated people in their fancy houses."
"I just wish we lived in a world where street smarts equal book smarts," she laments.
Welp, it looks like Maya's street smarts are about to get put to the test, as she's thrust into a high-powered position (that apparently comes with perks like an apartment, credit cards, and corporate esteem) that's shrouded in lies about her past.
"No matter who you want to be, never forget who you are," the trailer reads.
Hmm. I wonder if Maya's professional scam is going to cause conflict in her personal life... Whatever. This looks delightful.
Jennifer Lopez is joined by longtime pal Leah Remini in the film, who plays her buddy and former co-worker. Vanessa Hudgens portrays what appears to be some sort of protege of her phony alter-ego. Bonus! Recent Emmy nominee Milo Ventimiglia, who is severely underused on the big screen, is Lopez's supportive husband Trey.
"I'm a huge fan of This is Us," Lopez told People, discussing acting opposite Milo. "He brings such depth to everything he does, and he was our first and only choice for Trey. I loved every second working with him. Besides being an incredible actor, he's a great person."
Man, it's nice to know Jennifer Lopez sits at home (possibly weeping) to This Is Us like the rest of us.
Vanessa Hudgens expressed her own excitement over the project. The High School Musical alum gushed to ET about working alongside the iconic J.Lo:
It was honestly such a magical experience ... I mean, first off, she just completely welcomed me with open arms and just took such good care of me and was just so, so sweet. And the stuff that we got to do together was magical.
"There are so many things I love about this project and script. People try to put women to sleep at a certain age. Second Act is a story that empowers the every-woman to do more, to be more, and not limit their dreams," Jennifer explained to The Hollywood Reporter about her upcoming flick.
"It is a comedy for anyone who dreams big and asks, why not me?" she added.
Second Act is expected to hit theaters November 21, 2018.