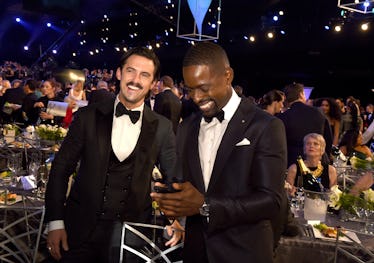 Sterling K. Brown & Milo Ventimiglia Are Nominated For The Same Emmy & I'm So Torn
Kevin Winter/Getty Images Entertainment/Getty Images
This Is Us fans are going to have a tough time deciding who to root for on Emmys night, because two of the stars of the NBC family drama are going up against one another for a trophy. Yep, Sterling K. Brown and Milo Ventimiglia are nominated for the same Emmy this year, so there is guaranteed to be some Pearson family competition at the ceremony.
Both Milo Ventimiglia and Sterling K. Brown received a nomination in the Outstanding Lead Actor in a Drama Series category during Thursday morning's Emmy nominations ceremony. The two This Is Us stars play father and son (separated by a time jump) on the hit NBC drama, and both of them have a really good chance at winning the award at the Emmys this fall. In their show's second season, both Ventimiglia's character of Jack and Brown's character of Randall had memorable, standout moments, including the heartbreaking story of Jack's death and Randall becoming a foster father.
Although they will be competing against one another for the Lead Actor in a Drama Series Emmy, Sterling K. Brown made it clear that he is overjoyed to be nominated alongside his on-screen father, Milo Ventimiglia. Brown posted a thank-you video shortly after nominations were announced thanking the Emmys for nominating both himself and Ventimiglia.
This is actually not the first time that Sterling K. Brown and Milo Ventimglia have competed against one another in this very Emmys category. Last year, when This Is Us' first season was eligible, both Brown and Ventimiglia were nominated for Outstanding Actor in a Drama Series. That ended with Brown taking home the Emmy. So, does last year's win mean that Brown may have an edge on Ventimiglia this year? Well, to be honest, I think Ventimiglia has a better shot at taking home the win this year. Season 2 of This Is Us was really all about Ventimiglia's character of Jack, and the story of his death was by far the biggest moment of the season.
If Milo Ventimiglia winds up winning the Emmy at this years ceremony, it will be his first-ever Emmy Award. On the other hand, if Sterling K. Brown wins the Emmy, it will mark a perfect streak of him winning an Emmy for three consecutive years, and winning every Emmy that he has been nominated for. But to take home the trophy, Ventimiglia and Brown not only have to beat out one another, but also the four other actors nominated for Outstanding Lead Actor in a Drama Series: Jason Bateman for Ozark, Ed Harris for Westworld, Matthew Rhys for The Americans, and Jeffrey Wright for Westworld. We will just have to wait and see if a This Is Us actor can pull off the win again.
And hey, if Sterling K. Brown does not win the Lead Actor in a Drama Series category, he still has another Emmy chance this year. Brown did not jsut serve the drama this year, but also the comedy — he is also nominated in the Outstanding Guest Actor in a Comedy Series category for his guest role on Brooklyn Nine-Nine. Brown appeared in the bottle episode "The Box" as a steely murder suspect who expertly countered Captain Holt and Jake Peralta's interrogation for hours. Many critics hailed the episode as a series highlight for the beloved cop comedy, directing much of the praise Brown's way, which is a great sign for him heading into the Emmys. But Brown's villainous role will have to beat out Katt Williams (Atlanta), Lin-Manuel Miranda (Curb Your Enthusiasm), Bryan Cranston (Curb Your Enthusiasm), Donald Glover (Saturday Night Live), and Bill Hader (Saturday Night Live) to snag the award in that category.
The 70th Primetime Emmy Awards ceremony air live on Monday, Sept. 17 on NBC. Saturday Night Live's Michel Che and Colin Jost will host the ceremony.