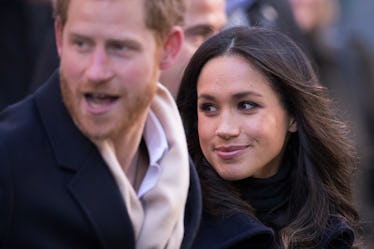 The Royal Wedding Program Is Here, So Get Your Pimm's Cup Ready
Christopher Furlong/Getty Images Entertainment/Getty Images
Weddings are a huge event no matter who's getting married, but it's a whole other ballpark when you're talking about a royal wedding. In any nuptials, you're bound to see at least a few familiar faces, but for the most part, you're probably seeing a whole lot of unfamiliar ones. And I don't know about you, but I have pretty much no clue who any of these Brits are at Meghan Markle and Prince Harry's wedding. Seriously, if we didn't have access to the royal wedding program, I'd be totally and utterly lost, scratching my head while I blankly stare at the TV screen trying to remember the difference between a duke and a prince.
Now, if you're anything like me, then you're quickly realizing just how little you know about all of the details that go into a wedding — let alone a royal wedding. Yeah, I know about bridesmaids, and groomsmen, and the wedding cake, and the vows, but like, carriage processions? Hymns? Wedding programs? Bless the poor soul who has to marry me one day, because I don't know a dang thing about how these events really go down.
Look, I'm not that clueless; after all, Mywedding.com points out that wedding programs aren't necessarily a "must-do" for all nuptials, but of course, we're talking about a royal wedding here, which essentially means "go big or go home" with every last detail.
Plus, like I said, I don't think I'd know who any of these royals were without the wedding program, so really, #bless.
"Like any couple getting married, Prince Harry and Ms. Markle have taken a great deal of care in selecting all elements for their service," the Order of Service reads. "This has been a collaborative effort led by Prince Harry and Ms. Markle. They have also sought the advice of The Prince of Wales for the orchestral music before the Service begins."
Then it dives into the exact order of events, but before you get to that, the program is loaded with information and background on St George's Chapel. Next up is of course the order of events — the program even specifies (down to the minute) who will arrive when, where, and what music will play when they do.
It's basically set up so that you partake in every aspect of the wedding from home. So if you want to pretend you're not on the couch in your pajamas, but instead are at St George's Chapel, you actually can.
So as you can see, there is a lot that goes into the proceedings of a royal wedding, and the program doesn't just help you put some names to faces; it also helps you anticipate what you're about to see next during the big day.
For instance, just look at Prince William and Kate Middleton's royal wedding program from their nuptials back in 2011 (how was that already seven years ago?!). For one thing, this program is long, but I have to say, I love the simplistic elegance of its design. The map of the wedding procession is super charming, and it's honestly fascinating to see, in detail, just how involved a royal wedding really is from start to finish. For Prince William and Kate Middleton, the two royals opened their wedding program with a lovely personal message for their attendees:
We are both so delighted that you are able to join us in celebrating what we hope will be one of the happiest days of our lives. The affection shown to us by so many people during our engagement has been incredibly moving, and has touched us both deeply. We would like to take this opportunity to thank everyone most sincerely for for their kindness.
From there, Middleton and Prince William's wedding program detailed the timetable of the entire event from start to finish, including various hymns and blessings that were read aloud during the ceremony, and it even included a few pages toward the end with information on everything you need to know about Westminster Abbey, where these two royals said their "I dos" back in 2011.
On that note, in case you haven't noticed yet at Meghan Markle and Prince Harry's wedding, these two royals chose a different venue for their nuptials. The former Suits star and her betrothed are saying their vows at the slightly smaller, yet equally stunning St George's Chapel at Windsor Castle, which only holds about 800 people, whereas Westminster Abbey can hold closer to 2,000 guests. Back in November 2017, NBC News reports, Kensington Palace released a statement explaining Markle and Prince Harry's wedding venue decision:
Windsor is a very special place for Prince Harry and he and Ms. Markle have regularly spent time there over the last year and a half.
And a special day obviously calls for a "very special place," no? Congrats, Meghan and Harry!