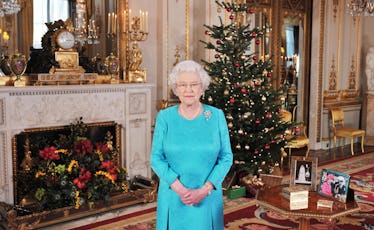 This Video Tour Of The Royal Family's Christmas Decorations Is Major #HolidayGoals
WPA Pool/Getty Images Entertainment/Getty Images
'Tis the season to, like, deck the halls and stuff, and people are doing that and then some: whole neighborhoods alight, giant trees, and those delightful-but-tacky blow-up Santas. But if you think people do it up stateside, I have some news for you bucko. We are nothing compared to our English cousins. And the Royal Family's Christmas decorations at Buckingham Palace are proof that we have a lot to learn from the UK. Goooooooals.
The official Twitter account for the Royal Family dropped hints of what to expect on Dec. 1, but nothing prepared us for this.
Tiny crown ornaments! Christmas trees! Colors and lights!
It's a Christmas miracle, and further proof that the UK's Christmas celebrations spank those in the United States. I mean, sure, Santa is great, but the UK has Father Christmas and crackers! And Christmas pudding. I mean, sure, a lot of their traditions have already found their way to the United States, like Christmas cards and Christmas trees.
But this just means that we can take inspiration from the small island nation to really up the Christmas-sparkle ante.
I mean, just take a look at this walk-through. The centerpiece of the whole shebang is arguably the 15-foot fir standing in the Marble Hall:
Then there's a lovely garland of evergreen, featuring baubles of all colors in the spectrum, running up a grand staircase older than the Washington Monument. Older than Arkansas's statehood! Older than the Democratic Party!
And you know your Christmas is crazy when 10-foot trees are considered "smaller."
According to the official video, the Christmas tree was popularized by Queen Victoria and Prince Albert in the nineteenth century, though Christmas trees were in the country long before that. Per the Royal Family Twitter account, Christmas trees were introduced to the UK in the 18th century, thanks to Queen Charlotte — but it wasn't until a century later, during Victoria's reign, that Brits were like, OK, I could get used to this.
And according to the BBC, Queen Victoria popularized a lot of Christmas traditions, including serving turkey (among other birds) and sending Christmas cards. She and Albert were instrumental in normalizing bringing an entire tree inside and hanging stuff from the branches.
So, thank you Victoria and Albert, because there is nothing I love more than writing awkward year-in-review notes to my family and distant acquaintances or hanging delicate glass baubles from tree branches which get all over my floor.
But anyways, after the Royal Family Twitter account teased some of the decorations on Dec. 1, they finally revealed what the royal residence in London looks like.
And it's no surprise: the Queen — who resides at Buckingham — is clearly a Christmas expert. This was Queen Elizabeth II during the 2016 Christmas address to the nation. Very serious business, Christmas in England.
I mean, just look at how seriously she takes her duties. That tree! The evenly dispersed lights and ornaments! The lush bouquet of white and red in the fireplace! So Christmas-y.
But Buckingham isn't the only royal residence to go HAM on Christmas decorations.
Check out Clarence House, the residence of Prince Charles and Camilla, the Duchess of Cornwall.
Their decorations are decidedly more accessible: little mini Christmas trees on Christmas trees and lots of cute and cozy-looking ornaments. Color and sparkle. Homemade gold ribbon garland. Very of-the-people.
Anyways, if you've been looking for Christmas inspo, look no farther than the Royal Family across the Atlantic. And as one of our own is about to become a royal — *cough* Megan Markle *cough* — we're probably about to exchange a lot more cultural traditions. Especially since Markle is going to have her first Royal Christmas in mere weeks. (Or days, as this is England we're talking about, and they celebrate Christmas for weeks at a time.)
So you might as well get started early and put some li'l crowns all around your Christmas tree this year.
And, as the Brits say, Happy Christmas to you and yours.