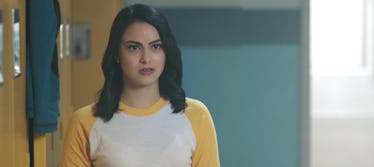 Jughead & Veronica Kiss In The New 'Riverdale' Trailer & Everyone Is Losing It
CW
Here I thought I couldn't get any more invested in the lives of the Riverdale #squad. Joke's on me I guess. In anticipation for the CW hit's next episode, the Riverdale season 2, episode 14 promo left me completely shook. Why is that? Well, it involves a scene that looks like Jughead and Veronica in a lip lock. I'm sorry, what.
Sadly we'll have to wait to get the full story until Mar. 7, the air date for the upcoming "Hills Have Eyes" episode. However, let's see what we can overanalyze from that precious 31-second sneak peak. It looks like Betty, Jughead, Archie, and Veronica head out to the woods for a romantic cabin staycation. In classic romantic getaway form, things heat up between the two couples, including "Dark Betty's" return, sporting our favorite BDSM inspired black wig, of course.
However, it's the last few seconds of the promo that have my eyes bugging out of my head. Amid a steamy pool, Veronica approaches Jughead (rocking a sleek black one piece might I add) and grabs his face in what looks like an attempt to lay one on him. While we're not 100 percent sure of the context yet, Archie and Betty's shocked expressions while watching all of this go down is my feeling to a tee.
Watch the trailer and decide for yourself.
Perhaps the kiss is Veronica's way of getting revenge for the infamous Barchie kiss? Maybe it'll even the playing field a bit?
Let's also note that the episode is titled "Hills Have Eyes," which fits perfectly especially since 'Black Hood' seems to make an appearance, by standing right behind Veronica. After all, nothing says "come kill us" like kids having sex in a cabin in the woods.
Just saying.
I'm not the only one having a total meltdown over here, Twitter is, too.
If there's one thing for certain, Betty really doesn't need any more drama in her life. Riverdale's latest episode, "The Tell-Tale Heart," left us all feeling bad for the bubbly blonde. This is mainly because of the dead drug dealer on her floor and her covert ops style of handling the problem. Last thing she needs is her and Jughead breaking up, again.
I don't know about y'all, but I'm team Bughead all the way. Since their reunion in episode "The Wicked and the Divine," the show is worth watching again. Even Jughead himself can't deny the couple's magnetic chemistry. In an interview with TV Guide, Cole Sprouse discussed Betty and Jughead's relationship. He said,
I don't think there's been a formal declaration in words as to whether they are reunited, but they're certainly acknowledging the fact that they can't stay away from each other. They are, funny enough, both dealing with very similar issues that they tried to tackle independently and there's an acknowledgement that when they work together, they work best.
Agreed Cody! Oh sorry, I meant Cole.
From the jump, Riverdale fans have expected some rockiness concerning Veronica and Betty's friendship. Lili Reinhart, who plays Betty Cooper, talked with Glamour about the two ladies' friendship troubles coming our way in season two. Well, gauging from this promo it looks like that trouble might be in full swing. She said,
Not to give too much away, but I think there is definitely challenges to come in Betty and Veronica's friendship, and it's a result of their parents, to be honest. It's like, how do they navigate their friendship with the parents that they have? And if their parents are at war, does that mean the kids are at war?
Yes I'm sure parental squabbles will force Veronica and Betty to face Romeo-Juliet style friendship struggles, but lip locks with boyfriends certainly don't help either.
Mar. 7, I'm going to need you to hurry up.