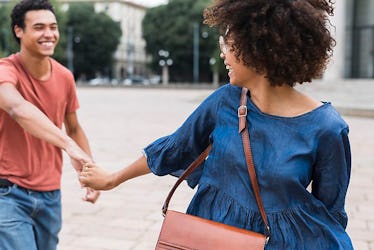 The Reason You're Getting Friend Zoned, Based On Your Zodiac Sign
I don't think there are enough words in the dictionary to describe the aftermath of rejection when you have been friend zoned. Like, I'm super crushing on you, thought I played all of my cards right, and when I went up to bat, I struck out?! This is not how is happens in the movies. We've all been there, but you probably never considered the reason you're getting friend zoned based on your zodiac sign, because you're still thinking about the way their cologne or perfume smelled when you hugged them. Stay with me, now.
Hey, I thought the stars were supposed to work in our favor? Lies! There are pros and cons to everything, and those cons basically conspire against you and leave you hanging in the wind, aka, the friend zone. Friend zoning shouldn't be a one-sided thing. Can we talk about this before you irrationally place me in a platonic oblivion that's basically inescapable? Clearly, you can confide in me like a friend, but what if I want to suck face and do all of the mushy stuff, too?
No one's pointing fingers, but if you aren't happy settling with the whole "sh*t happens" excuse, you want answers. And since our zodiacs educate us on our day-to-day ventures, there's no reason why they can't decipher the friend zone blues as well. These aren't things to get too caught up over, because you are amazing just the way you are, ladies. But, there are some things that might be keeping you on the sidelines, even when you want to be in the game.