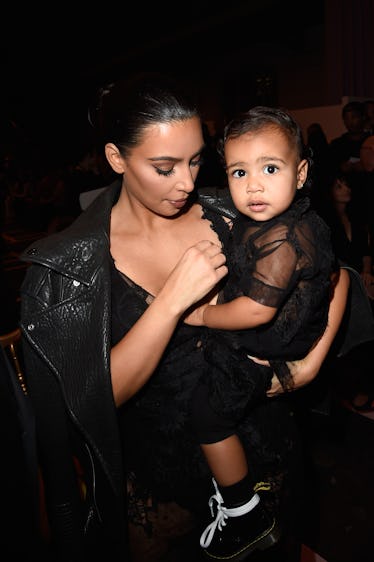 The Reason Why The Kardashians Use Filters On Their Baby Pictures Is Surprisingly Good
Pascal Le Segretain/Getty Images Entertainment/Getty Images
It's a Kardashian-baby world and we're all just living in it. This year alone, three Kardashian/Jenner siblings added new family members to their famous group, and fans have been eating up all the pictures and videos we can get. Sisters Kim, Khloé, and Kylie all welcomed little girls to their families and we've officially seen pictures of all three babies. They just also have happened to have bunny ears, or fire coming out of their head, or superimposed freckles... you guys know the deal. The reason why the Kardashians use filters on their baby pictures actually makes a lot of sense when you think about it, because mainly it's for privacy.
Although we know from past experience fans will eventually get raw, unedited images of the sister's children, for now, the babies are mostly filtered. The editing features on Snapchat and Instagram allow the Kardashians to change their face shape and add special effects to their babies' photos if they want to. The end result is usually an image of something close to what the kids look like in real life, but not exactly. According to an insider, this is so the Kardashians can maintain a sense of privacy and protection over their children, but still show off their wee ones to the world.
Here are a few of the pictures fans have seen recently.
Kim Kardashian's daughter, Chicago West
Kylie Jenner's daughter, Stormi Webster
Khloé Kardashian's daughter, True Thompson
According to the sister's, deciding how much to show their kids on camera and to the public is an ongoing struggle. People reports the family touched on the subject during the filming of the Keeping Up With The Kardashians 10th Anniversary Special. Kourtney Kardashian explained "the boundaries all always changing" and they'll go through periods where they feel they need to "cut back" on showing their children.
Kourtney's son Mason, 8, has been around the cameras the longest, thanks to being the oldest. His mom explains his evolving relationship with the TV crew has been interesting to watch. She explained,
It's funny now that Mason is getting older. He knows [about the show]. He doesn't watch it, but I've heard him talk to his friends and say, 'I'm on a TV show called Keeping Up with the Kardashians.' I'm like, how does he know that?!
She added, "Mason calls [the crew] the filmers. He used to be like, 'Are the filmers coming? I want to show them my Legos that I'm building.' Now he's in a phase where he's like, 'I don't like when the filmers are over.'"
Kim also talked about her decision to eventually show her daughter North on camera. She told the anniversary special host Ryan Seacrest,
You can fall in love with someone, and it's not their job to be on our show. Kanye [West] respects what I do and sometimes he's on, if he happens to be there, or will let us film if we're at a concert. At first we were like, 'Our kids will never be on, my daughter is not going to be on.' But she's always around me and she's so cute, so I just want people to see [that] a little bit. It's never a story revolving [around] them or about them or anything too personal. We know that we signed up for this, but our kids did not.
You can't argue with that.
It's fine. I'll take a filtered image of a Kardashian baby over no image of a Kardashian baby any day. Keep 'em comin, ladies.
Check out the entire Gen Why series and other videos on Facebook and the Bustle app across Apple TV, Roku, and Amazon Fire TV.