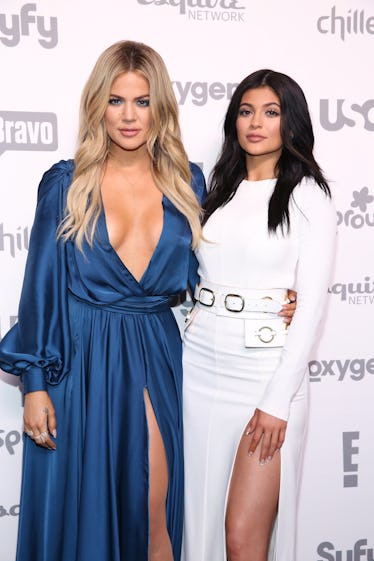 Here's How Kylie Jenner Delayed Khloé Kardashian Announcing Her Pregnancy
Robin Marchant/Getty Images Entertainment/Getty Images
By now, it's a surprise to literally nobody that Khloé Kardashian and Kylie Jenner both have beautiful baby daughters — but do you remember a time not long ago when all the world had was simply speculation? Both Khloé and Kylie kept things so close-lipped that the world was basically grasping at straws, hoping for even the slightest hint that they were expecting. We of course now know that Kylie Jenner kept her entire pregnancy hidden — but Khloé did end up revealing that she was expecting in December 2017, just a few months shy of when she gave birth to True in April. And the reason Khloé Kardashian's pregnancy announcement was delayed had everything to do with her pregnant sister, Kylie.
In the most recent episode of Keeping Up with the Kardashians, Khloé revealed that it was because of Kylie's pregnancy that she didn't tell her fans sooner.
"I am really anxious to announce my pregnancy, but Kylie's three months ahead of me and I want to give her her own time to shine and let her do her thing," Khloé said in a confessional on the show. "But Kylie keeps going back and forth on whether she will announce. Waiting is so frustrating because my body is changing and people are super invasive and just not being respectful."
Can you even imagine how difficult that must have been for Khloé, realizing that her growing bump was going to soon reveal itself without even knowing when she could announce that she was expecting?
Talk about anxiety-inducing.
Later on in the episode, Kim K brings up this fact to Kylie. "You know that Khloé is waiting for you to announce since you got pregnant first?" to which Kylie responded, "I don't think I'm ever going to announce."
Welp, that's a predicament.
But fret not, because Kylie called Khloé to iron out the situation, revealing that she didn't want the fact that she wouldn't tell the world of her pregnancy to hold up her sister's big news.
"I don't think I'm ever going to announce that I'm pregnant," Kylie said, adding, "I just don't want to be in the spotlight, I just want to be low-key. You should go ahead. You don't have to wait for me, you should announce — it's exciting for you, too!"
That was pretty kind of Kylie to let her sister have the spotlight, and considering she wanted to keep things private, that probably helped take away some of the speculation fans had about Kylie's reported pregnancy.
I'm beyond thankful that Kylie gave Khloé permission to tell the world about her pregnancy, because if she didn't, then we wouldn't have gotten the most heartfelt Instagram post of all time, when, on Dec. 20, Khloé confirmed that she and Tristan Thompson were expecting a child together.
In part, her post read,
My greatest dream realized! We are having a baby! I had been waiting and wondering but God had a plan all along. He knew what He was doing. I simply had to trust in Him and be patient. I still at times can't believe that our love created life! Tristan, thank you for loving me the way that you do! ... I know we've been keeping this quiet but we wanted to enjoy this between our family and close friends as long as we could privately. To enjoy our first precious moments just us ❤️ Thank you all for understanding. I am so thankful, excited, nervous, eager, overjoyed and scared all in one! But it's the best bundle of feelings I've ever felt in my life!
And now, look where we are, fam! Khloé has True and Kylie has Stormi, and they all lived happily ever after.