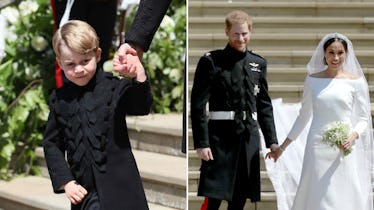 Prince George Had A Major First At The Royal Wedding & You Probably Missed It Completely
WPA Pool/Getty Images Entertainment/Getty Images
Meghan Markle and Prince Harry, Duke and Duchess of Sussex, had one hell of a wedding day. So much history was made on Saturday, May 19, and it's honestly refreshing to see a royal wedding break from so many traditions. And while the day was no doubt focused on the newlyweds, there was someone else who was making his own little mark on history, and he deserves some major props. Yup, I'm talking about the photos of Prince George wearing pants for the very first time, and let me tell you, fam, I am here for it.
In case you were wondering why wearing pants in public is such a big deal for little Prince George of Cambridge, I'll tell you why: Because it's apparently very un-royal for little princes to wear anything but shorts, no matter the weather (and FYI, it gets chilly AF in the UK during the winter). Editor-in-Chief of Majesty magazine Ingrid Seward told People, "It is considered very suburban for a little boy to be in long trousers when he is just a little boy." Seward also notes that George's father, Prince William, Duke of Cambridge, had to follow the same rules when he was a child, too. She said,
Boys wear short trousers until they are 8. It is very English ... Prince William didn't wear long trousers until he went to school at Ludgrove at the age of 8 or 9.
You hear that, world? If you're English royalty, of course you're going to be in shorts for basically the first decade of your life. I mean, who would even want fabric past their knees? What are you, some basic, non-royal toddler?
But at 4 years old, Prince George put that rule on hold for his Uncle Harry's wedding, looking dapper as anything.
According to People, Prince George wore "a miniature version of the Blues and Royals coat that Harry and George's dad, Prince William, wore to the wedding ceremony," because why wouldn't he match?
Take a look at how adorable he is walking with Prince William. Honestly, he *almost* upstaged Prince Harry on his own wedding day. Almost.
Now I know what you're thinking: That's the coat. Prince George is allowed to wear coats. What I want to know about are the PANTS! WE WANNA SEE THE PANTS!
People describes Prince George's pants as "custom-made black pants by Savile Row tailors Dege & Skinner" and that they "featured a red stripe down the side." Trés chic, George!
While George was able to rock a pair of pants for Prince Harry and Meghan Markle's wedding, we probably won't be seeing him in longer lengths anytime soon. "It is shorts until you're 8 and then 'woo, you're in long trousers,'" Seward said. "They suddenly feel very grown up."
So, can our young Prince George wear pants on any other occasion? The answer: Not really.
For Pippa Middleton's wedding, Prince George was a page boy, but before you start thinking that he wore pants, THINK AGAIN, because he wore knee-length shorts with very, very high socks:
Those outfits were too pure for words though, so no comment.
But what if he goes on vacation somewhere cold? You can't tell me that a small child has to be subjected to wearing shorts while galavanting through the mountains, right?
...RIGHT?
People notes that Prince George will "often wear high socks with his shorts when cold temperatures hit the U.K. and during visits to chillier climates, such as during the royal family's fall 2016 trip to Canada."
The one an only exception was when Prince George visited the Alps with his family. Or do snowsuits not count as pants?
Yeah, I don't really get it either. But hey, at least we got to see Prince George wearing pants as a little kid at least once in our lives, and we should just be thankful for that.