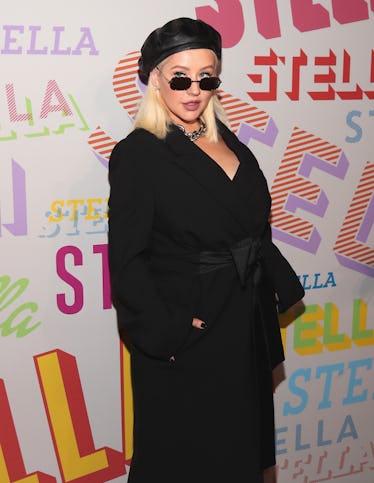 I'm A 2000s Baby & These Photos Of A Stripped-Down Christina Aguilera Sang To Me
Christopher Polk/Getty Images Entertainment/Getty Images
Yesterday started off as a pretty chill day. I woke up, went to a coffee shop, did some journaling, worked a bit, and went for a walk. And then I saw photos of Christina Aguilera's make-under for Paper Magazine and my "pretty chill day" was flipped on its head because holy sh*t bare-faced Xtina is a freckle-covered goddess, and I am shook.
I went from pre-teen to teen in the early 2000s, meaning Christina Aguilera, Britney Spears, Avril Lavigne, Beyonce, and Jessica Simpson were my teen dream idols. Despite the fact that my parents wouldn't let me listen to their music until my high school years (I started an underground CD trading ring to get my musical fix in elementary school, fear not), I made sure to find a way to watch their music videos and stay up-to-date on their red carpet fashions.
One of my first memories of Aguilera's aesthetic, therefore, involved heavily smudged eyeliner, hair crimped as high as the heavens, blood red lips, and a red corset dripping in jewels. She went all-out with her look in the music video for 2001's "Lady Marmalade" (she collaborated on the banger with Pink, Mya, and Lil' Kim) and continued to test out even more gutsy looks from there.
In 2002, Aguilera appeared in the music video for her hit single, "Dirrty," with jet black hair extensions, thick eyeliner, and those now-infamous red chaps. In 2006, she took on a more pinup-like appearance — red lips and a victory roll hairstyle — with the release of her Back to Basics album, which featured her take on a slew of throwback songs. In 2012, she appeared on the cover of her Lotus album with ice blonde hair that nearly reached her waist and the smokiest of eye makeup. And most recently, Aguilera's appeared as a judge on The Voice, rocking everything from deep, witchy lips and silver hair charms to an orchid-studded coiffe and teal dip-dyed locks.
In short, the woman is known for fearlessly experimenting with her beauty looks and championing the more-is-more mentality, which is why seeing her without a stitch of makeup on Paper's latest cover came as such a shock to me.
"I've always been someone that obviously loves to experiment, loves theatrics, loves to create a storyline and play a character in a video or through stage," Aguilera told Paper in her cover story. "I'm a performer, that's who I am by nature. But I'm at the place, even musically, where it's a liberating feeling to be able to strip it all back and appreciate who you are and your raw beauty."
Yesss, Xtina! As much as I love the way she's embraced the potential of makeup in terms of empowering, transforming, and inspiring, seeing her au naturale is refreshing (and beautiful) AF. On the cover, her liner-less blue eyes sparkle, her freckles dot her powder-less skin, and one of her slightly manicured fingernails rests on her lipstick free pout. She's stunning, arresting — at first I didn't even realize it was her.
The rest of the photos in her spread are equally as gorgeous, though some are less makeup-free. In some, she wears a curly blonde wig reminiscent of retro styles; in others, falsies with clumped together eyelashes frame her eyes. Then there are the shots in which she tests out some of the coolest beauty trends du jour — oxblood shadow, a shiny navy pout, metallic lids — and rocks each one. The shoot is captivating in ways that only a Paper shoot can be and show completely different sides to Aguilera that my teenage self never imagined existed.
Perhaps the pared-down look is a precursor to an upcoming album. As noted by Paper in the interview, which you should absolutely read in full, "In January, when impatient fans inquired about a new album — which would be her first since 2012's Lotus — via a hilarious handwritten note on her Walk of Fame star, she sent a sassy Insta-story response ('It's coming bitches')." As noted above, it wouldn't be unlike Aguilera to explore a new appearance in tandem with a new sound. Even if so, she's not giving up the makeup for good anytime soon. "I mean, I'm a girl that likes a beat face, let's not get it twisted," she told Paper.
We wouldn't have it any other way.