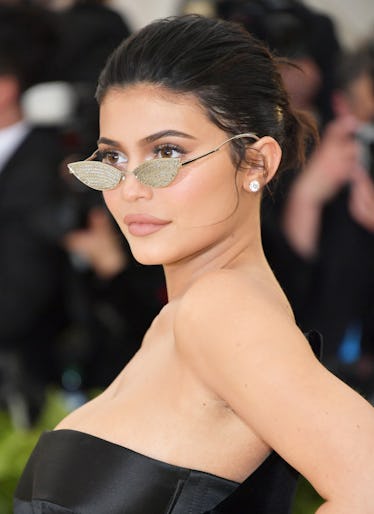 Kylie Jenner's Halloween Costume With Stormi Is The Weather Pun We Were All Waiting For
Neilson Barnard/Getty Images Entertainment/Getty Images
With apologies to Heidi Klum, Kylie Jenner is now the new reigning queen of Halloween. The reality star gave us five incredible looks this year — two with daughter Stormi, and three without. And I promise to get to all of those in a minute. But while every single one of the costumes the youngest KarJenner sis rocked was total perfection, there is one that definitely stood out from the rest because it managed to pull off the elusive trifecta of being smart, sexy, and sweet all at the same time. Seriously, you guys, this photo of Kylie Jenner and Stormi's "Stormi Weather" Halloween costume will totally make your day.
For starters, the mother-daughter duo's outfit was a pun, and I just love a good bon mot on Halloween don't you? You've got your cereal killer, your breadwinner, your holy guacamole, your French Kiss. But the makeup mogul took the wordplay game to an entirely new level when she put on a fluffy cloud dress and decked her daughter out as a golden bolt of lightning. The two of them together then became "Stormi" weather, and OMG nothing has ever been so perfect and don't even try to tell me otherwise.
OK, so here it is:
Have you ever seen anything so amazing? Let's take a closer look at that dreamy cloud dress:
I need to know what this stunner is made from because it looks so gorgeous and fragile that I'd be petrified to put it on!
In addition to the inclement weather ensemble, Jenner and Stormi also dressed up as a pair of beautiful pink butterflies on Oct. 30.
This look isn't all that surprising, given that Jenner and Stormi's dad Travis Scott, have matching butterfly tattoos. Plus, remember when we all thought Jenner was going to name her baby "Butterfly" or "Mariposa" back when she was still preggers?
Who would have ever thought she'd end up going with Stormi? Although TBH, that name has totally grown on me and now I cannot even imagine calling that precious little child anything else.
Meanwhile, the Keeping Up With The Kardashians star also took three other Halloween costumes out for a spin without her daughter. First, she went all plastic fantastic in a full-on Barbie World photo shoot. Not only were there outfit changes, but she also posed behind the wheel of a pink Ferarri — did Barbie even drive a Ferarri? — and inside a life-size replica of Barbie's plastic box:
All Barbie costumes should now officially be considered canceled, because I don't know how anyone could ever top this.
Jenner also dressed up as a pineapple-flavored Fanta Girl in a skin-tight yellow PVC dress for Scott's Halloween party:
Check out her girl squad gettin' jiggy to the Fanta jingle:
Yup, we wanna.
And finally, to close out Halloween 2018, Jenner dressed up as a Victoria's Secret Angel with her four other KarJenner sibs: Kim, Kourtney, Khloe, and Kendall.
Here's Kylie in her sparkly nude, rhine-studded unitard and a gorgeous pair of white, fluffy wings:
And here she is in a pic from Kim's Instagram, with her whole celestial fam:
Killed it.
Honestly, you might as well go and cancel this costume, too, because I don't know how any of us could ever, you know, keep up.