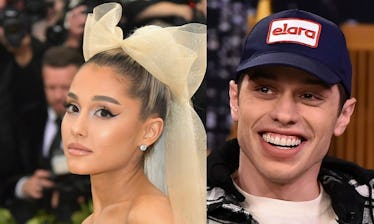 Ariana Grande & Pete Davidson Watching Themselves On 'SNL' Is So Cute, It Hurts
NEILSON BARNARD/GETTY IMAGES ENTERTAINMENT/GETTY IMAGES | THEO WARGO/GETTY IMAGES ENTERTAINMENT/GETTY IMAGES
It's no secret that Ariana Grande and Pete Davidson are in the midst of a whirlwind romance. The couple has been dating for just about two months now and they're already living together and engaged to be married. And while things are definitely moving fast for them, they seem to be doing all they can to enjoy the small things. Like appreciating the earlier stages of their relationship, way before romance was ever part of the picture. Actually, an Instagram photo of Ariana Grande and Pete Davidson watching themselves on SNL says it all.
On Monday, July 9, Grande shared a sweet photo to her Instagram story of her and Davidson admiring their 2016 appearance on Saturday Night Live. At very first glance, it appears that Grande and Davidson are re-watching their appearance on the late night comedy show. But it could very well be that it's just a photo on display in their super fancy NYC apartment.
Either way, it's a sweet memory to cherish for sure. For those of you who don't know, Grande and Davidson first met publicly while Grande was appearing on SNL back in 2016. They even shared the stage for a few brief moments during the episode.
Here's a look at the photo Grande posted:
Their SNL meeting took place right after Grande delivered her opening monologue and performance. The brief exchange, which is comedy gold, included references to pot and crack. And that was literally all they talked about.
Thankfully, they found other things to bond over. Like their mutual love of Harry Potter, which seems to be a huge part of their relationship.
Back in May, Davidson even shared a cute photo of himself and Grande dressed in Potter garb at the start of their relationship:
Then, in early June 2018, Grande posted a video of Davidson roasting her for in-depth knowledge of Harry Potter. Here's what Davidson had to say about Grande's passion for the franchise:
I don't know these weird facts that you know. They don't advance the story at all. Like me knowing Professor Quirrel's favorite scarf is... it's just not, like, what Harry Potter was to me. You know? Like, I've seen each movie at least 20 times, but I'm sorry I don't know what Dumbledore's cat's, when he was four, name is because it just didn't advance the f--kin' story. You know, I can tell you who killed Harry's parents!
And here's a look at the hilarious video:
In any case, Grande and Davidson have found way more to share than some comical references to drugs on SNL. And that's a beautiful thing. They're totally smitten and you can see their love written all over their faces every time they post something new on social media.
Like this incredibly sweet photo of them sharing a kiss:
Davidson is totally in his element here. I'm sure Grande is, too!
And then, of course, there's this funny video of them dancing and enjoying each other's company:
And you can't forget this now iconic photo of the couple:
Obviously, Grande and Davidson are totally out in the open and in the mood to share all the details of their romance. During a recent appearance on The Tonight Show Starring Jimmy Fallon, Davidson spoke of Grande and his engagement to her.
The confirmation came thanks to Fallon, who chided Davidson about the engagement. "Now, you know you didn't have to get engaged to Ariana Grande to come on our show, right?" he said.
Davidson replied with: "But I did, though… I feel like I won a contest."
How cute are they?!