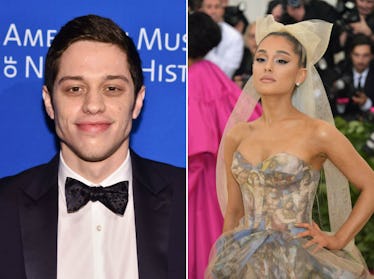 Pete Davidson Roasting Ariana Grande Over Her Extreme 'Harry Potter' Knowledge Is Funny AF
Michael Loccisano/Getty Images Entertainment/Getty Images | Neilson Barnard/Getty Images Entertainment/Getty Images
By now the world knows that Ariana Grande and Pete Davidson are dating and have been for about a month now. While there isn't much that's known about the relationship as a whole, the world is getting tiny glimpses into their life together via social media. Thanks to Instagram, fans can now enjoy a video of Pete Davidson roasting Ariana Grande, which is genuinely hilarious.
In the video, Davidson appears to be roasting Grande over her extensive knowledge of the Harry Potter movies. Admittedly, Davidson himself is not so knowledgeable about the movie franchise even though he's seen the films countless times. Here's all the hilarious stuff he said to Grande in the video:
I don't know these weird facts that you know. They don't advance the story at all. Like me knowing Professor Quirrel's favorite scarf is... it's just not, like, what Harry Potter was to me. You know? Like, I've seen each movie at least 20 times, but I'm sorry I don't know what Dumbledore's cat's — when he was four — name is because it just didn't advance the f*ckin' story. You know, I can tell you who killed Harry's parents!
In the background of the video, you can hear Grande laughing after every one of Davidson's sentences. Although you can't see her in the frame (she's recording), you get the impression that these two love being with each other and that Davidson really makes Grande laugh. So, that's super sweet to see!
Grande shared the video on her official Instagram account and, almost immediately, fans were flocking to see the latest development in this budding relationship. Since coming together in early May 2018, Grande and Davidson have been relatively mum on their romance.
While the two have shared a handful of pics over Instagram, including a Harry Potter-inspired one, they haven't shared much in the way of details about how they became the latest "it" couple.
Here's a look at the video Grande shared:
Needless to say, fans are really loving the fact that they're together. And they're loving even more what the two stars share on social media.
"I love them together so much!!!! My all time favorite couple!!!!!" wrote one fan.
Another fan said they loved seeing the two nerd out over Harry Potter together: "I love that you're both Harry Potter fans. It fills me with such joy. Like, I just wanna hang out with you both & talk about HP all day."
And yet another fan talked about how fun it would be to date Davidson: "how entertaining would it be to date him?? They're perfect and I love them officially."
Obviously, Grande and Davidson have made quite the impression on their fan base.
Grande, 25, and Davidson, 24, have been dating for just a short time. News of their relationship broke via E! News on Monday, May 21. In their report, the media outlet cited an insider close to Grande and Davidson as their source of information.
"It just started and is casual," the source told E! News at the time.
Since then, Grande and Davidson have been sharing bits of their love with the world.
Grande posted this photo in early June:
Her caption was super sweet, too:
i thought u into my life 💭 woah ! look at my mind 💡⚡️🙈
On May 30, Davidson posted this pic of himself and Grande, highlighting their mutual love of Harry Potter:
Prior to dating, both Grande and Davidson had been in long-term relationships. Grande was previously dating Mac Miller. She reportedly broke up with him in late April. Davidson, on the other hand, was previously linked to Cazzie David. The two reportedly split in early May.