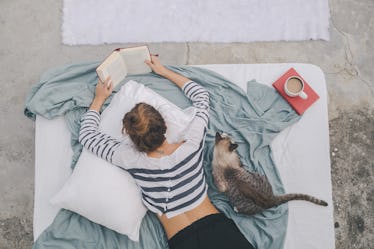 The Book You Need To Pick Up This Summer, Based On Your Zodiac Sign
I love being a Scorpio. I love that it's synonymous with intensity (which I relate to in my every breath, desire for the future, and anxiety-riddled tweets about my commute). I love that I have fellow loyal Scorpio friends, who can always relate to how I'm feeling in any situation, and it's always fun to discuss our fellow famous Scorpios. (Hi Lorde and Ryan Gosling!) But throughout all the fun, I truly feel like our horoscopes and zodiac signs can provide so much clarity and insight into who we are, and since summer is just around the corner, it's a great time to start planning the perfect summer 2018 read, according to your zodiac sign.
Summer is directly around the corner — that or it's going to continue to be 38 degrees each day until Labor Day. We can't be sure. Anyway, these first five months of the year have already felt like a decade, so it'd be nice to have some astrologically aligned literature to give our brain a productive vacation and a our souls a break.
You've worked hard all year. You've survived the biweekly snow storms, the president's rage-tweets, and the parade of Facebook engagements. You've survived and thrived, pal. Time for you to take a book vacation based on what your soul needs. Here are your sign-based book suggestions.
Aquarius: Final Girls by Riley Sager
You thoughtful and ethereal starfish! You live and love to think a whole lot, you're very introspective and you dig your alone time. You should bark up the mystery tree (this is the most geriatric thing I have ever said in my 26 years on earth). I suggest Riley Sager's Final Girls. The writing and subject matter is entirely captivating. It's got a whole lot of mystery and most importantly, baking. The protagonist operates a baking blog. There is a 68% percent chance you will want to bake while reading this book, which really is a win-win.
Pisces: How To Murder Your Life by Cat Marnell
Pisces, you are a compassionate sunflower. You are known for your capacity for empathy and forgiveness. I think you'd love Cat Marnell's How To Murder Your Life. In her memoir, Marnell produces a retrospective look at her successful writing career that she cultivated while also experiencing severe drug addiction. The writing is self-aware, honest, entertaining, and unlike the last book you read. This book is the friend and journey you deserve.
Aries: The Brief Wondrous Life of Oscar Wao by Junot Diaz
Aries, you are a brave Simba in a world of insecure Scars. I promise to never say that again. You are a determined human and a force to be reckoned with. You can handle and enjoy the dynamic, so for you, I suggest my favorite book of all time: The Brief Wondrous Life of Oscar Wao by Junot Diaz. This book is like a million different gifts in one. It's a book that will seize your attention. It's about loneliness, love, and getting made fun of for the ridiculous things you fall in love with. But it's also about family and loss. It is literally about everything good, bad, and noteworthy. Once you open this book, you will never be the same, and sometimes an Aries needs a bit of soul shaking so they can know what their next move should be.
Taurus: The Happiness Project by Gretchen Rubin
My mom is a Taurus, so congratulations on sharing your astrological sign with a true angel who has had to put up with my culinary ineptitude and alarm clocks for 26 years. You're a hard worker with strong beliefs and a practicality your pals value. You always seem to be striving for more and striving to be better, so for you, I recommend Gretchen Rubin's The Happiness Project.
I think this book is technically categorized as ~self-help~, but it's not preachy in the slightest. It's a book about the author's honest and methodical attempt to fit more happiness into her life. There are random tidbits that will stay with you, including the one minute rule that everyone has heard about. Any time I don't want to hang my jacket up, I think of Gretchen Rubin yelling "IF IT TAKES LESS THAN A MINUTE YOU SHOULD DO IT." Gretchen Rubin never yells in the book, though. Every hypothetical voice in my head yells at me. It's how I grow.
Gemini: You by Caroline Kepnes
There's never a dull moment with you, you unpredictable brilliant little Gemini. You're witty and sharp and everyone wishes they had your brain and confidence. You need and deserve a challenge and/or something different. I recommend the acclaimed and adored You by Caroline Kepnes. This book is about a young man named Joe who falls obsessively in love with a young woman named Beck about 12 seconds into meeting her. It's horrifying, yet entirely captivating. The protagonist in this book has quite a strong personality, and I think you'll be entertained, but also want to throw your nearest office appliance. I love a book that elicits object-throwing emotion. Bonus: Lifetime is adapting this into a series this fall, and the trailer looks bananas.
Cancer: A Man Called Ove by Fredrik Backman
You have a beautiful heart, my Cancer pal. You're sensitive to the world around you, in the best possible way. You actually care about people, places, and things. You should read Fredrik Backman's A Man Called Ove, which is about a curmudgeon who is completely ridiculous (think stuffy, uptight yet lovable Grandpa ridiculous) and completely hilarious. This emotional book feels like a hug from all the good things in the world that are possible.
Leo: One Day We'll All Be Dead and None Of This Will Matter by Scaachi Koul
Leos operate on confidence. You know who you are and you know you are worthy of praise. AS YOU SHOULD, PAL. You should read Scaachi Koul's One Day We'll All Be Dead And None Of This Will Matter. Koul's memoir is hilarious, honest, and thought-provoking. This is a great book for the beautiful and complex mind of a Leo. This book will help you to continue to be the unafraid gem that you are.
Virgo: Goodbye, Vitamin by Rachel Khong
Virgo, you hardworking angelic soul. You are known for being a dedicated and determined soul. You're always putting everything you've got into the millions of things the world has requested you do that day. Goodbye, Vitamin by Rachel Khong is centered around a young woman, who moves home to live with her father who has the early signs of Alzheimer's disease. It's a short and beautiful book. It's funny and insightful, and will offer you the kind of entertainment and comfort that you deserve.
Libra: The Last Black Unicorn by Tiffany Haddish
Nothing gets past a Libra. You truly care about things from the bottom of your soul. You are a good mediator and are always looking to learn something new. You should read Tiffany Haddish's The Last Black Unicorn. This memoir is the gift that keeps on giving. Reading this book is like walking into Haddish's world, and you will be a better person for having done so.
Scorpio: Far From The Tree by Robin Benway
To start, I am biased because I'm a SFS (super fun Scorpio). Anyway, if you're a Scorpio, and someone has learned you are a scorpio, you've probably been on the receiving end of a "Scorpios are intense" comment. To which I say, yes, yes we are. Scorpios love to love. Scorpios give their everything to what and whom they view important. You should read Robin Benway's Far From The Tree, which is an important book about family, love, and how good people really do deserve their happy endings.
Sagittarius: You'll Grow Out Of It by Jessi Klein
My adventure loving pal, welcome. You know that you're all about the risks and the excitement of all the good that is yet to come. You love to try new things and to laugh. You should without a doubt read Jessi Klein's You'll Grow Out Of It. This is the kind of book you deserve--a book from a comedy writer who will keep you entertained with every word. At the end of this book, you'll feel like you had a conversation with a friend.
Capricorn: The Rules Do Not Apply by Ariel Levy
Capricorn, I hear you're a planner. That's cool, but I truly cannot relate. You're responsible and reliable, and probably the pal your friends go to for advice. You should read Ariel Levy's The Rules Do Not Apply. Levy's memoir is a perfect encapsulation of how we make plans and the world not only laughs in our face, but chooses to subsequently kick us in the front teeth. This memoir about marriage, loss, and the human desire for more is beautifully told and is definitely a book that will stay with you long after you finish it.