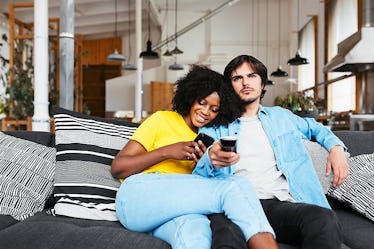 The One Reason You Shouldn't Move In Together, Even If You're In Love, Experts Say
Moving in with a partner is a big step, but sometimes that's easy to forget. It's pretty common for folks to make the move simply because it seems like they should, based on timing, convenience, for financial reasons, or even just on a whim. Hey, no judgment, I've totally been there myself, so I know personally how easy it is to make that choice without really thinking about. Maybe you're considering cohabitation because it seems like there is no reason you shouldn't move in together. After all, you two are committed to the relationship and your lease is up. Isn't that enough to take the leap?
While ultimately it's up to you to know when the time is right to live together, it can still be a little more complicated than that. With this in mind, I reached out to several experts to find out how to know if you're really ready to move in with your partner, and how to talk with them about it. What I learned surprised me. There are actually plenty of reasons to hold off on making the move, even when you're in love. It basically boils down to this: If your decision to move in with your SO is based on anything besides love and wanting to create a home together, it's time to hit the pause button and consider your choice more thoughtfully. Here are some reasons experts say you should hold off on moving in together.