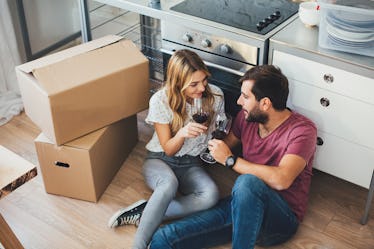 6 Red Flags That You & Your Partner's Relationship Won't Survive Living Together
I have a lot of thoughts about moving in with your partner; most notably, you shouldn't do it if you're not ready to move in together. If this hasn't occurred to you, it's OK. It's actually not your fault. I've realized that most of the TV couples I grew up with decided to move in together out of convenience rather than an actual desire to wake up face to face every day. Rory Gilmore and Logan Huntzberger in Gilmore Girls? Moved into Logan's penthouse after Rory's roommate Paris kicked her out. I mean, wow! Talk about romantic.
I was never convinced that Chandler Bing really wanted to move in with Monica Geller in Friends, either. His sales pitch was basically that he could just unpack his bags from their last trip together at her place since he was already there. I'm sorry, could he be any lazier?
Perhaps, the worst reason you can move in with your partner is out of convenience because the implication is that you're roommates and nothing more. Like, "Hey, you know what would be great? If I moved into your studio apartment for a while. Right? It's close to my internship and we could switch to one Netflix account instead of two!"
No. Just, no. If you're rationalizing a new living arrangement with your partner like this, you're not ready to move in together. Here are six more signs you and your partner aren't ready to take this next step.