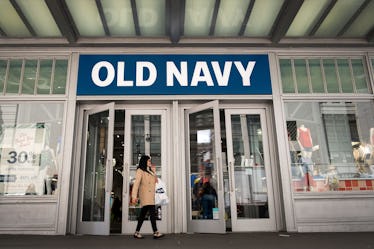 Old Navy's Year-End Bonanza Sale Means Half-Off Denim & That's Just The Beginning
Drew Angerer/Getty Images News/Getty Images
Once the holidays are over, I take a much-needed break from shopping in order to let my wallet (and sanity) heal. But the Old Navy year-end sale that I just came across (ahem, searched for) is so unbelievable that I literally can't resist scoping it out. Do I have any willpower? Doubtful. Am I on my way to losing my mind and all of my worldly possessions? Perhaps! This will test my skills at the digital version of window shopping.
I'll get to the details of what Old Navy have officially coined their "Year-End Bonanza Sale" in a minute, but first you should know that today only all of the brand's jeans are up to 50 percent off. That means you can snag new denim for as low as $15, with the majority of styles going for about $20. Old Navy is known for offering an array of silhouettes, colors, styles and fits when it comes to jeans, so it might be a good idea to fulfill your denim needs for the year while this sale lasts. (They've got everything from millennial pink raw-edge jeans to black micro-flares, so yes, you can get a head start on your summer and fall wardrobes.)
If you can believe it, the Year-End Bonanza Sale is even better than the denim discounts. In-store, items will be slashed to up to 75 percent off, meaning you're paying a quarter of what they'd usually cost you. Sweet! Can you imagine if your rent was slashed to 75 percent off? What about your car payment? We would all live like queens. Online, items are up to 60 percent off, so if you don't have it in you to leave your house (too much ham and potatoes, I get it), you can still snag some awesome deals.
My window shopping exercise means I know the best sale items on the site right now, which I've included below for your convenience. (No, I haven't bought anything yet, I rule.) Happy perusing!
Get In Line
A striped shirt never goes out of fashion. This one has bell sleeves, which add a unique flare to the classic style.
Slip n' Slide
These sandals are the perfect footwear for any warm weather getaways you might have coming up. For me, slides are a must — I hate wasting time at the beach or pool buckling inconvenient sandals.
Florals? For Spring?
Florals for spring? Groundbreaking! Sarcasm aside, this simple black and white dress looks as comfy as it is wearable I'd pair it with black heeled booties and a red lip for a night out, or the above slides and some sunnies for a chill Sunday brunch.
In Stitches
I love the combination of olive green and denim. This quilted jacket would look awesome with any wash of denim, and is the perfect lightweight coat for early spring or fall.
Sweat It
Seeing as it's now totally acceptable to wear sweatpants out on the reg thanks to the athelisure trend, this pair of marbled gray ones would make my shopping cart. They look incredibly comfortable but also feature a cute cropped silhouette, which I love to wear with sneakers. A creature of comfort, indeed!
Sleep, All Day
This top would make for a cute pajama top, but I'd actually wear it with black skinny jeans and boots for a bright daytime look. Versatility is everything when it comes to building a closet you won't get bored of.
In Bloom
A super effortless midi that packs a cute floral punch. This is another piece that can be styled a ton of different ways depending on the occasion.
Get The Boot
For $26, these printed Chelsea boots are a steal. I'd wear them with an all-black look and gold hoop earrings for a chic yet easy everyday look.
Pattern Play
I love the design around the neckline of this cozy sweater. It's festive, colorful, and is another piece that would pair perfectly with jeans.
Carried Away
I'm honestly shocked this bag is by Old Navy. It reminds me of other leather bags modeled after plastic grocery bags (yes, it's a trend), but for a fraction of the price. The color and shape are so perfect — it's a tote I'd actually carry.