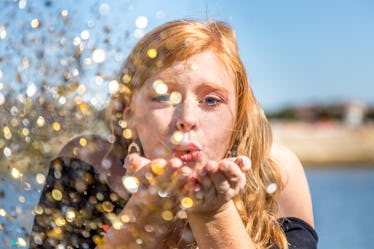 The Oh My Disney Pixar Travel Collection Will Add Pixie Dust To Your Vacay Pics
Shutterstock
If you grew up watching Pixar movies, you know that "adventure is out there," and if you "just keep swimming," there are plenty of places to explore. You can probably attribute most of your wanderlust to Disney movies. Finding Nemo may have made you want to jet-set to Australia, and perhaps Ratatouille is the reason why you long to enjoy fine dining in Paris. Since your love for Disney has made you a world traveler, you absolutely need the Oh My Disney Pixar travel collection.
This collection has everything you need to travel in style. Even if you haven't been able to use your passport quite yet, treating yourself to a Pixar-themed passport case and luggage tag will motivate you even more to get that first stamp. While you're cruising through the clouds to each dreamy destination, you can even rock a cute and cozy Pixar spirit jersey.
You may have made a resolution to travel more this year, but haven't decided where to go. Be inspired by your favorite Pixar movie, and go there. Just remember to pack every essential in your Pixar-themed luggage. It's all possible with any (or all of) these items in the new Oh My Disney collection.