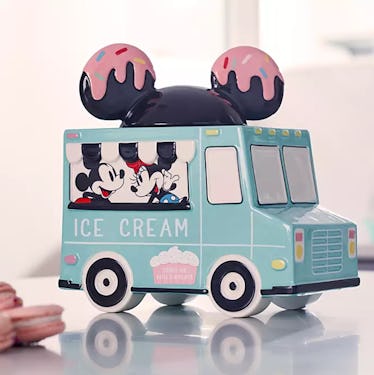 The New Disney Eats Collection Will Make You Want To Eat Dessert First
shopDisney.com | Disney
There's no point in a waiter asking if you'd like to see the dessert menu, because the answer is always yes. You're proud of your sweet tooth, and you're game to try any new ice cream flavor or gourmet masterpiece that comes your way. That means with your love of Disney and sugary treats, you'll probably want every single item in the new Disney Eats collection. From an ice cream truck cookie jar to sprinkle-filled spoons, this collection is adorably sweet, so it might be a good time to add a few baking essentials to your kitchen.
You know it just wouldn't be a Disney collection without a nod to Mickey Mouse, which is why it's so cute to see him and Minnie featured on almost every single item. In addition to all the Mickeys, this collection has an ice cream theme throughout that features things like sprinkles and pastel colors. You'll totally ice scream when you see it.
If you're looking to introduce a few new things into your kitchen, or if your New Year's resolution is to get more into baking this year, you might want to consider adding any of these eight items to your shopping cart.