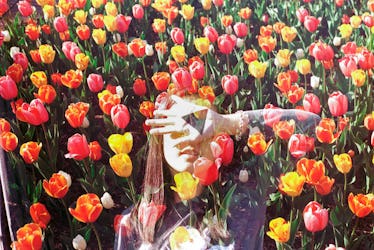 October's New Moon In Libra Is Your Last Chance To Start Over Before The Holidays
Hello, October! Is that really you? I honestly can't fathom the fact that this year is nearly over, but hey, I'm not complaining either, trust me. The year 2018 will be one for the books, considering the transformation we've endured, both collectively and individually. Nevertheless, the October 2018 new moon will be in the sign of the scales, aka Libra, bringing new beginnings to our relationships and values. Now, before we get deep into the upcoming lunation, let's talk a little bit about everything that's going on in the sky at the moment. Remember, when we look to the cosmos for guidance, we can't just look at one celestial body. After all, the whole is greater than the sum of its parts, right?
With that being said, we're in the midst of this oh-so-gorgeous Libra season; however, Libra's planetary ruler Venus is currently traveling through the underworld in secretive Scorpio, bringing all that's hidden beneath the surface to the light. Speaking of secrets, Pluto, god of the underworld, is now direct in serious Capricorn, after almost half a year retrograde. Interestingly enough, Capricorn is a symbol of the patriarchy, and well, if you've been watching the news as of late, you've probably seen a number of accusations related to sexual abuse, which is all very Plutonian for the record. Truth is, Pluto transforms and destroys, and in Capricorn, the god of the underworld is ruthless AF, to say the least.
It doesn't end there. On Oct. 5, just days before the new moon, Venus, planet of love, beauty, and relationships, goes retrograde in smoldering Scorpio. This retrograde period is basically a deep dive into our current partnerships, and values. Are you being completely authentic in your relationships? What about your self-worth? Are you acting with integrity? These are all topics that could come up for you during this time. Plus, Venus in Scorpio is notorious for jealousy, possessiveness, and at times, toxicity. What I'm trying to say is, be mindful of your emotional triggers during this time. At the end of the day, Venus mirrors are actions, and in Scorpio, there's no avoiding the truth.
New Moon In 17 Degrees Libra
The new moon on Monday, Oct. 8 will be in 17 degrees Libra, alongside the sun in the same sign. This lunation will make a quincunx to ethereal Neptune, which by the way, a quincunx is when to celestial bodies that have absolutely nothing in common make a connection at 150 degrees. This aspect will bring a bit of magic into our lives, and ultimately remind us to have balance between our dreams and our reality.
Something else that's interesting with this aspect is, Neptune is a symbol of glamour, and Venus is beauty and self worth. Together, these two energies can serve as a reminder to be gentle with ourselves, in terms of our self esteem, and body image. Who knows, maybe some of us have been playing the victim in our relationships, which also happens to be very Neptunian. Others may need to find balance with the use of substances, or general escapism - another symbol of Neptune.
There's more. The sun and moon will also be making a square to powerful Pluto in Capricorn, sparking a need for control, and possibly even extreme behavior. Remember, if these emotions suddenly resurface, take a moment to reflect on the past, and where they could be stemming from. Pluto likes to dabble in deep buried truths, and all things related to psychological triggers. That being said, it's important that we stand in our power, and face our demons. After all, this is a new beginning for us, right? Don't be afraid to channel this smoldering passion and start again. There's a couple more things that need work before we ring in the new year. Push through.