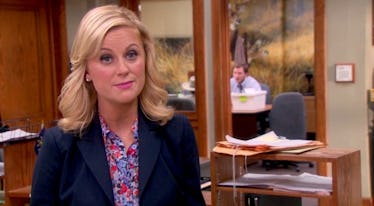 The 'Parks & Rec' Creator & Stars Are Dragging The NRA For Tweeting A Leslie Knope GIF
NBC
The National Rifle Association's social media team seemed to believe that the gun-selling organization held up well amid pointed questions about gun control from students who survived the Stoneman Douglas High School mass shooting at a CNN town hall on Wednesday night, and celebrated by posting a Parks & Recreation GIF on the NRA's official Twitter account. That did not sit well with the people who made that GIF possible, and now the Parks & Rec stars and creator are slamming the NRA for thinking that Leslie Knope would stand with them right now.
Following CNN's Parkland town hall on Wednesday night, which allowed student survivors of last week's Stoneman Douglas High School shooting to directly address NRA-backed Florida Senator Marco Rubio and a spokesperson for the NRA named Dana Loesch, the NRA tweeted out a thank you message to Loesch for representing the organization. At the televised town hall, Loesch fielded questions from the teen survivors whom have become vocal advocates for increased gun control following the massacre at their high school. Included in the NRA's thank you tweet to Loesch was a congratulatory GIF of Amy Poehler's Parks & Recreation character, the optimistic civil servant Leslie Knope.
The GIF choice did not sit well with Parks & Recreation fans, or with the actual creator and stars of the former NBC comedy. Parks & Rec creator and showrunner Mike Schur (who tweets under the moniker Ken Tremendous) noticed the NRA's tweet, and responded with a request to the organization to remove the reference to his series from the message. Schur also shared a message from Leslie Knope herself: Amy Poehler, who does not have her own Twitter account, apparently asked Schur to tell the NRA to "f— off."
The NRA's use of Amy Poehler's image in a celebratory tweet is especially egregious given Poehler's well-documented advocacy for gun safety reform. Poehler's female empowerment organization Amy Poehler's Smart Girls has publicly called for the removal of political leaders funded by the NRA, and Poehler herself participated in a video campaign calling for reformed gun safety laws that was produced by the nonprofit movement Everytown for Gun Safety.
Mike Schur and Amy Poehler weren't the only Parks & Recreation stars to slam the NRA for tweeting out a GIF of their show. Nick Offerman, who played the government-distrusting department director Ron Swanson, echoed Schur and Poehler's sentiments, arguing that Leslie Knope represents the opposite of what the NRA stands for.
Adam Scott, who played Leslie Knope's husband Ben Wyatt in Parks & Recreation, also stepped in, telling the NRA to stay away from Knope. Check out both of their tweets below:
These Parks & Rec stars were joined by numerous fans of the beloved government-spoofing sitcom, who also voiced their anger and confusion over why the NRA would tweet a GIF of Leslie Knope. Along with Amy Poehler herself being a vocal proponent for increased gun control, many fans believe that her character of Leslie Knope would also clearly oppose the NRA. Over the seven seasons of the sitcom, Knope was a rare depiction of a politician who fought tirelessly to root out corruption within government, such as lobbyists buying politicians by donating millions of dollars into specific campaigns.
Check out some more tweets from Parks & Recreation fans responding to the NRA's use of Leslie Knope in their tweet:
Despite calls from Parks & Rec's creator, stars, and fans for the NRA to delete the tweet, it is still live on the organization's Twitter account as of Thursday morning. If Leslie Knope were real, you know that she would be tracking down that NRA social media person right now.