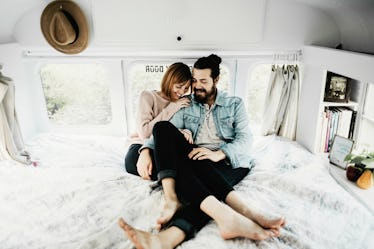 The Non-Sexual Thing Your Partner Is Attracted To Most, Based On Their Zodiac Sign
Oftentimes, the qualities I find sexiest in a potential partner aren't really that "sexy" at all. I'm drawn to things like the way a guy laughs, the spattering of freckles across his nose, his ability to have carry a politically-charged conversation without mansplaining how semi-automatic weapons work. ("Please, tell me more about the differences between AR-47s and AK-15s. I'm dying to hear!") But I've always wondered which of those less sexual (but undoubtedly sexy) qualities guys have found in me. Aren't you a smidge curious to know what your partner is attracted to in you as well?
I had a feeling. So, I turned to the stars (and, all right, the astrology experts) to learn a little more about the qualities our partners are most intrigued by — based on their zodiac signs, of course. I enlisted the help of Judi Vitale, a spiritual alignment counselor at Journeys of Life, and Linda Furiate, astrology expert and personal mentor, to unearth which traits and features that different signs find most appealing in their SOs — from Pisces' appreciation of your openness and big heart to a Sags' need for adventure.
Here's a look at what every sign loves most about their partners — beyond what goes down in the bedroom.