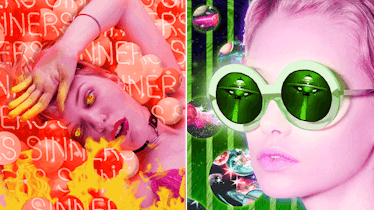 Calling All Thrill-Seekers: This Nightmare Machine Pop-Up May Be The Spookiest One Yet
Halloween season is a time when instead of fearing the monsters underneath your bed, you embrace the heck out of them. Witches, ghosts, and aliens — oh my! (OK, maybe that's a little dramatic, but you get the picture.) Only in October are you cool with seeing creepy ghouls and headless horsemen lurk in the streets, because you know it's for Halloween. That's why this Nightmare Machine pop-up in NYC is a perfect place to go with your thrill-seeking friends to see the spookiest of Halloween dreams come to life.
Nightmare Machine comes from the creators of Dream Machine in Williamsburg — an interactive pop-up that featured selfie service laundromats and fluffy cotton candy. Now, to get in the spirit of the season, it's not all rainbows, clouds, and blue ball pits anymore. Kicking off Wednesday, Oct. 3, guests can enter a unique experience that transports you into some of your creepiest nightmares.
According to the pop-up's press release, there will be nine rooms filled with things you might find in some of your scariest nightmares, including aliens and UFOs. The Nightmare Machine was made for those of us who love the things that creep in the night, and also, it's a perfect spot to get some spook-tacular selfies for the 'Gram.
In this nightmare, you get the best of both worlds.
Some of you may be confused on whether this is a haunted house, or an interactive experience made for Instagram selfies and whimsy boomerangs. Well, according to the FAQ page on The Nightmare Machine's website, it's a combination of both. Someone cue up Hannah Montana, because this pop-up's got "the best of both worlds."
Founder of both the Dream Machine and Nightmare Machine pop-ups, Paige Solomon, revealed in the press release, "Our goal with Nightmare Machine is to tap into our weirdest nighttime dreamscapes and create a creepy, fun, and content focused experience that will transport you into an alternate world."
You can wander through the exhibit by yourself, or with the squad if you feel the need for backup. There will be tons of Insta-worthy spots along the way, so you'll definitely want to bring your camera along for this thrilling journey. It's also expected to take you around 45 minutes to go through the whole thing, so there's a ton to see.
Dive into hell and visit the "Millennial Graveyard."
It's clear the nine rooms of interactive experiences include all things creepy. When you meet some aliens along the way, you'll surely take some pics. Pose for a peace sign selfie and use an out-of-this-world caption like, "I come in peace" or "Too alien for Earth. Too human for outer space." Along with those extraterrestrial 'Gram opportunities, there will also be a Clockwork Orange-inspired tunnel that will feel super spooky and trippy.
Just like all Instagram pop-ups, there needs to be some kind of ball pit, and in your nightmares, it's likely one that's inspired by hell. Get a boomerang of your friends diving in the fire-like pits of hell and caption it with, "You're the devil in disguise." Though, out of all the sights to see, I want to know exactly what's in the "Millennial Graveyard," and I kind of want to avoid the room with cockroaches.
The good news about the Nightmare Machine is that tickets are on sale now, and they are $38 each. So, call up your crew and get yours ASAP. After enjoying all of the basic fall activities of pumpkin patches and hayrides, get your squad to visit the this Halloween haunt. The experience is only open until Oct. 31, so you'll definitely want to make a trip 93 North 9th Street in Brooklyn and see this for yourself.