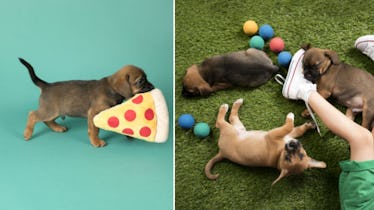 This Pop-Up Is Made For You & Your Fur Baby, & It's Puggin' Insta #Goals
If you absolutely loved scrolling through the 'Gram during National Dog Day, you know what really matters most in life, and that is four-legged fur babies. There's no doubt about it, dogs are man's best friend for a reason. They are cute, cuddly, angelic, and loyal AF. In a dream world, we could have our dogs with us all the time. We could take them to work, restaurants, and even those pop-up experiences that were made for Instagram. Well, I come bearing good news. The Human's Best Friend dog pop-up in NYC is perfect for you and your fur baby to attend together.
Human's Best Friend is a new experience that both you and your doggy can have fun at together. With interactive experiences throughout, this pop-up is similar to other experiences like Candytopia and the Museum of Ice Cream, but at Human's Best Friend, there are dogs!
According to the Human's Best Friend press release, award-winning designers Brian Tovar and Jason Sherwood have created an experience that is designed with pups in mind to raise awareness for adoptions and local rescues. It's an immersive dog playground that you and your fur baby can walk through together, while also taking adorable pics for the 'Gram. So, don't forget to bring your camera along as you make a trip to the West Village to experience this first-hand. Human's Best Friend will be located at 15 7th Avenue starting Sept. 15.
What about dog lovers with no fur babies of their own?
If you're a dog lover without an actual fur baby of your own, no worries. You can still attend this pop-up and hang with rescue dogs from more than a half dozen local organizations. So, everyone gets some sweet pups to play with. Heck, you may even fall madly in love with one of the pups, and decide to welcome a furry friend of your own into your home. There will be representatives at the pop-up to discuss adoption with anyone who is interested. It's a win-win for everyone.
This pop-up was seriously made fur the 'Gram.
Like any good pop-up, Human's Best Friend is packed with some awesome interactive experiences that you'll pawsitively want to snap for the 'Gram. The walk through was designed for BFFs — Best Furry Friends — so you'll be able to snap pics with your pup along the way. There will be colorful environments as you stroll through, including a blue sky backyard, a pop-color dog house, a toy pit your fur baby will woofing love, and a bone yard with life-size bones.
It also wouldn't be an Instagram experience without some kind of pit to jump into. This time, it's a giant water bowl filled with blue tennis balls. Your pup will be having the best day ever, tail-wagging and all. Caption everything with some fun dog puns like. "Having a paw-some time," and, "I labra-dore my best friend."
Get your tickets now for some puggin' fun.
Human's Best Friend is open until Nov. 12, so you'll want to get your tickets soon. If you're heading there with your fur bestie, it'll be $39, but if you're riding solo, it'll be $29. The best part is 10 percent of all profits are going to the local rescue organizations, so you're helping some pups along the way. That's fur real fun.