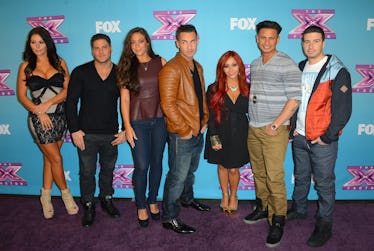 The New 'Jersey Shore: Family Vacation' Trailer Is Here & It's Incredible
Frazer Harrison/Getty Images Entertainment/Getty Images
I never thought I'd write this on the internet, but here it is: The Jersey Shore just out Jersey Shore'd itself. The new Jersey Shore: Family Vacation trailer is somehow more GTL than ever before, which is really, REALLY saying something. If you haven't heard the incredible news, the gang is back together for a new series and this time they're taking the fist-pumping to Miami. America, the cabs are literally here.
It's been almost five and a half years since these rascals hung up their solo cups for the last time, and my life has been a little emptier ever since. We can all agree the series took a definite turn when Mike "The Situation" rammed his head into that cement wall in Italy. It was always nice to know that if I needed a friend, I could find one while watching the show. Since the last episode aired on Dec. 20, 2012, the group has moved on to have children, get married, start spinoff series, and grow up.
Ya know, kind of.
If the latest Jersey Shore reboot trailer shows us anything, it's that some things actually never change. That obviously includes Pauly D's haircut.
Feast your eyes on this beautiful piece of media.
There is so much to break down here. Where do I begin?
Do I start with the hubcaps? Maybe I should start with the animal-print steering wheel. Perhaps you were most drawn to the felt dice hanging from the mirror or the Italian flag swinging next to them. For me, I think I have to latch onto the license plate that proudly spells out the words, "Jersey Shore - GTL 4EVA - The Smush State."
I love it so much. It hurts so good.
Of course, the cast members are fist pumping their faces off while hanging out of the top of the convertible. The Situation is behind the wheel next to Pauly D. who is riding shotgun. Vinny and Rob are killing it with JWOWW behind Snooki (who is clearly front and center). Of course, Deena is just doing her own damn thing.
God, I love Deena.
The trailer ends with the famous last words: "Buck the f*** up." It then flashes some great puns like, "Thursday. 'Jerzday.' Apr. 5, 8 p.m."
Nothing has ever felt so right.
However, die-hard fans might be quick to notice Sammi "Sweetheart" Giancola is nowhere to be found. That's because she decided, "Ya know what? I'm good. Thanks."
When the reboot was first announced in January, Jenni "JWOWW" Farley told US Weekly she still has hope for Sammi. She said,
In my head, in my dreams of dreams, I really hope that [Sammi] pops in. Yeah, it's gonna be different. I wish she would be on it but I understand why she's not going to be on it... She might be ready to start a family and get married, have babies. I don't know. She's just on to the next chapter in her life. I'm still in shock thinking that the show is coming back too. We never expected this … I respect her decision. We all respect her decision. It is what it is. In my head, I still have hope.
Nicole "Snooki" Pollizi told the magazine she think Sammi's absence might have something to do with her breakup with Ron. She said,
Honestly, filming the show, Jersey Shore, back then … it was so crazy. It took a toll on you. It was very emotional. And being that there was a lot of Ron and Sam drama when we did film, it was just really hard on both of them. So I just think she doesn't want that anymore.
For now, fans can definitely look forward to hilarious hi-jinx, loads of tequila shots, and almost definitely some good old fashioned gym, tan, laundry.
The Jersey Shore: Family Vacation premieres Jerzday, Apr. 5, at 8 p.m. on MTV.
I really, honestly, from the bottom of my heart CANNOT WAIT.
Check out the entire Gen Why series and other videos on Facebook and the Bustle app across Apple TV, Roku, and Amazon Fire TV.