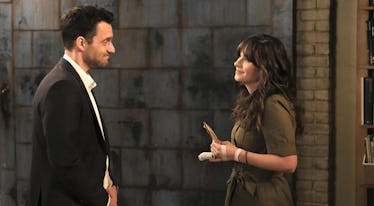 The 'New Girl' Final Season Promo Reveals Nick Will Propose To Jess In The Premiere & OMG
Fox
New Girl fans have been following the on-again-off-again romance of Nick Miller and Jess Day for seven years now, and with the sitcom preparing to enter its final season, it looks like we are finally going to see a happy ending for the loftmates-turned-lovers. A new promo trailer for the final season reveals that Nick will propose to Jess in New Girl's season premiere. As long as his elaborate ring-mailing plan works, that is.
The new teaser trailer for the New Girl Season 7 premiere features Nick Miller receiving a phone call from Jess's dad, Bob. In the scene, a frustrated Bob hounds Nick about why he still has not proposed to Jess — Bob is basically speaking for all of the fans of the show here — and Nick replies that he has a plan to pop the question that night, once he and Jess return to the loft that started it all. Don't forget that this new season will take place three years after the events of the Season 6 finale, and Bob reveals that he gave Nick his blessing to propose six months ago. Apparently, Nick and Jess have been traveling around Europe together for a while, and Nick was waiting to return to the States so he could propose to Jess at the loft.
Check out the new promo clip below:
It sounds like New Girl fans are finally going to get the proposal they've waited six seasons for when the series returns on Tuesday night! Executive producer Dave Finkel confirmed to Entertainment Weekly that the show is not going to keep Jess and Nick apart any more:
The challenge for us was finding fun conflicts that didn't question, 'Will they or won't they?' They will and they are, but what does that take?
Another new promo clip from the Season 7 premiere gives fans a little more insight into how Nick and Jess' relationship has progressed in the three years since we last saw them. After returning from her European adventure with Nick, Jess catches up with Cece and reveals that she is a bit disappointed that Nick didn't propose during their travels, but she does not seem too upset. Then again, she is rocking a strange and very un-Jess-like new look, complete with a nose ring and misspelled neck tattoo. The end of the clip also reveals that Jess's Season 1 boyfriend Russell, aka Fancyman, (Dermot Mulroney) will be part of the season premiere.
Along with this proposal, the biggest aspect of the New Girl Season 7 premiere will definitely be the sizable time jump. The episode title makes that very clear — it's called "About Three Years Later" — and obviously the premiere will need to lay a lot of groundwork for where all the characters are in the three years since we last saw them.
Jess and Nick aren't the only characters that New Girl fans are excited to catch up with. In the previous season, Cece and Schmidt got married, and in the finale they learned that Cece was pregnant. Now three years in the future, we are going to see them as parents — Cece seems to imply that she has a daughter named Ruth in that second promo clip.
And then there's Winston and Aly. The couple got engaged in Season 6, so hopefully they will still be together (and maybe married) in Season 7. Last season also ended with Winston getting the phone number for his dad, who walked out on him and his mom when Winston was a kid, so that may also play a big role in his storyline this season.
New Girl Season 7 premieres at 9:30 p.m. ET, Tuesday, April 10 on Fox.