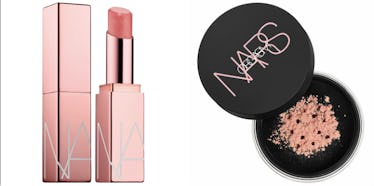 NARS Just Dropped The Lip Balm Version Of "Orgasm" Blush & It Deserves A Standing O
Sephora
Since launching in 1999, one cult-favorite blush shade has been expanded into a range of other products with its same much-loved hue. And now, Nars Orgasm lip balm is the newest product to join the family of rose-gold beauty bag essentials. The best part? According to one beauty editor at Glamour, it's as good as it's name sounds...if you catch my drift.
If you're not familiar with Nars Orgasm products, here's a little primer on them before we get into the details of the new balm. As I mentioned, Nars Orgasm Blush ($30, nars.com) debuted 19 years ago and to this day remains the best-selling blush in the United States. Described as a "peachy pink with golden shimmer" by Nars itself, it's a shade that looks good on literally every skin tone, hence its popularity. It's even won one of Allure's "Best of Beauty Awards" six times, so you know it's really, really good.
Since the blush's launch, Nars has expanded its Orgasm range to include an illuminator, liquid blush, lip gloss, and nail polish. And now, they're not just adding the new Afterglow Lip Balm ($28, sephora.com), but Illuminating Loose Powder ($28, sephora.com), as well. Ohhhhh, this is good.
As described on Sephora's website, the powder is "a silky-soft, loose illuminating powder" that " blends effortlessly onto skin with a glimmering finish." It's meant to blur the look of imperfections and to be used to accentuate cheeks and décolleté. Seeing as it's the same pinkish gold shade as the Orgasm blush, it's a bright and beautiful statement powder — it's perfect for summer 2018.
As awesome as the Illuminating Powder is, the Afterglow Lip Balm is better. At least, it sounds like it is, thanks to the amazing review it received from a Glamour editor.
"This lip balm is the most low-effort way to look like I put in some effort," she writes, which, I am already sold. Anything that requires minimal effort and gets me maximal results is something I want in my beauty cabinet. "The finish is a slight sheen, not enough to be glossy but definitely not matte, so it catches just enough light to add brightness," she continues. "And the warm, rose-gold tone delivers a shade similar to my natural lip color, but with the sort of flush I imagine they'd have if I'd been kissing my boyfriend or, like, Riz Ahmed for nine hours. Plus, it's infused with monoï oil, which is what gives it that soft, balm feel." One, Riz is mine; two, this product sounds like the wunderkind of balms.
As described on Sephora's website, "Afterglow Lip Balm delivers a sheer wash of the universally-flattering Orgasm shade with a radiant finish. The formula features NARS's Monoï Hydrating Complex for smooth, supple comfort. It's also infused with a blend of antioxidant ingredients to help protect lips." Sounds like it lives up to everything it claims it will, right?
I personally can't wait to get my hands on both new releases (they drop online at Sephora on May 20 and in-stores on May 21), though I'll be grabbing the balm first. I have a ton of music festivals coming up this summer and while I love the look of lipstick and would wear it every day if I could, bright reds, deep plums, and the like tend to get smudged when I'm jamming out to my favorite bands. This balm would add the perfect amount of tint and shine but is subtle enough that, if smeared, it wouldn't look like I'd just made out with the Kool-Aid man.
As the Glamour editor writes, "think of this lip balm as summer's retort to the fussy, high-maintenance liquid lipstick of winters past." Done.