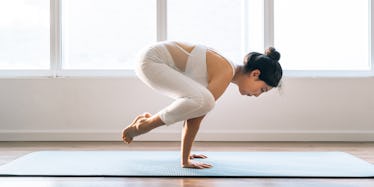 The Most Common Yoga Injuries Can Easily Be Avoided, As Long As You Do These 5 Things
As yoga has grown in popularity, so have yoga injuries, naturally. People are constantly trying to achieve the challenging and impressive asanas that they see on social media, and it's easy to forget that the ancient practice of yoga is about so much more than contorting your body into unique physical shapes. Even in the simplest of supervised beginner classes, all yogis are still at risk of developing some of the most common yoga injuries. In reality, with any physical activity always comes the potential to get hurt.
But, as a yoga teacher, I don't want to send out the wrong message and instill a fear of injury in people who are interested in experimenting with the practice. Yoga is such an incredible form of movement that is truly meant to heal your entire being. If you listen to your body, and you take care to not push your limits to a point where things get too uncomfortable, you can easily avoid getting injured during your time on the mat.
There's a quote by B.K.S. Iyengar, one of the most highly respected yoga teachers in the world, that says, "The pose begins when you want to leave it." And while it's true that yoga teaches you how to tolerate the uncomfortable (both mentally and physically), you know your body best. If anything ever feels like it's not serving you, or doing more harm than good, it's important to honor those physical cues telling you to back off. Your body is truly one of your greatest teachers, and listening to it is imperative.
Remember, though, overuse, strain, and irritation happens to everyone, even if you've been practicing yoga for years, and even if you're listening to your body's every cue. Of course, being overly cautious 24/7 squeezes out the joy of movement, and it just isn't realistic, but knowledge is key to preventing injuries. Here are five of the most common yoga injuries, and how you can avoid them each time you roll out your mat.