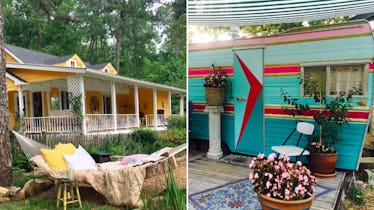 The Most Colorful Places To Rent On Airbnb For Your Next "Treat Yo' Self Trip"
When picking the perfect destination and where to stay for your next getaway, it can get pretty overwhelming with the seemingly endless options. My friends and I usually opt for the first listing that looks comfortable, safe, and close to the center of town. Though, when you're shelling out cash for a place to stay, it doesn't have to solely be a place to shower and sleep at night. Instead, make your rental a travel destination as well, and for your next "treat yo'self trip," opt for one of the most colorful places on Airbnb, complete with all the amenities.
Whether it's pink, blue, yellow, green, or all the colors of the rainbow, any of these seven rentals will bring more character to your stay than a typical hotel room. Not only are they gorgeous to look at, but they'll be a pastel dream come true when you share pics of your trip to the 'Gram. Your vibrant home away from home will also encourage you to find the color in everywhere you travel, so by the end of your trip, your Instagram aesthetic will be so on point. Needless to say, don't just travel; travel in color and treat yo' self.