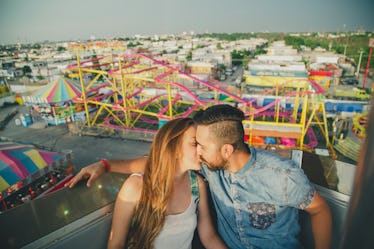 The Memory To Make With Your Summer Fling, Based On Your Zodiac Sign
The rush of a summer fling can be electrifying. Whether you've been flirting for a while or your summer lovin' came as a total surprise — the sunny season is the perfect time to feel sparks with a new cutie. Although every minute you spend with a summer boo may feel like a rom-com moment, it can be fun to make some days extra special. And if you're looking for a memory you should make with your summer fling, knowing how their zodiac sign can impact their dating preferences can help you nail the perfect summer date.
Of course, no matter your sign, summer is a wonderful time to try new and exciting things with the people you date. From free outdoor concerts to long walks in public gardens and spontaneous local road trips — romantic memories with a summer fling don't have the break the bank. This season is the time for tan lines and cookouts, and with so much to do outside, summer is a great time to make some amazing memories.
And if you're looking for the perfect warm weather date that your summer fling will love, here are 12 summer date ideas based on your boo's zodiac sign.