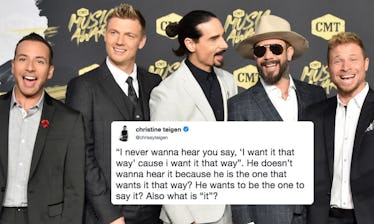 The Backstreet Boys Explained The Meaning Of "I Want It That Way" & It Still Makes No Sense
Mike Coppola/Getty Images Entertainment/Getty Images; Twitter
The Backstreet Boys are having a moment. They took home the 2018 CMT Performance of the Year Award on June 6 for their CMT Crossroads performance of "Everybody" with Florida Georgia Line. They performed their new jam "Don't Go Breaking My Heart" during the ceremony, too. And they went viral on social media over the weekend after, at long last, giving their fans what they've wanted since 1999. That's right, guys, the meaning of the Backstreet Boys' "I Want It That Way" has finally been explained, and we all have Chrissy Teigen to thank for it.
See, the band responded to a tweet from the Lip Sync Battle star, who was trying, as many of us have, to understand the meaning behind the word "It" on that iconic BSB track. "I never wanna hear you say, 'I want it that way' cause i want it that way," Teigen tweeted on June 1. "He doesn't wanna hear it because he is the one that wants it that way? He wants to be the one to say it? Also what is "it"?" Good freaking question. Like, tell me whyyy. "It seems they both want it the same way but are fighting over who gets to say they want it that way," she continued in a second tweet.
Chrissy is freaking awesome. But not gonna lie, I get a headache trying to figure out if she's on the right track here. Luckily, the Backstreet Boys themselves rolled up to Twitter later that same night to give Teigen — and the rest of the world — an answer.
"Don't wanna hear you say that you want heartaches and mistakes," they explained on their official Twitter account. "Or to be 2 worlds apart. We don't want you to want 'it' that way - that's the way we want it... for you to not want it that way."
Um, what?
On the one hand, it's impressive that detective Teigen was able to flesh out a response from the band. But on the other... I still have no idea what the hell these guys are talking about. Is it just me, or is their answer more confusing than the original lyrics?
Nope, not just me:
Thank you, Twitterverse. It's good to know I'm not the only one struggling here. But guess what, you guys! It turns out the Boys were apparently just trolling Teigen on Twitter with their completely convoluted answer. Or at least that's what they told Billboard on the CMT Music Award red carpet in Nashville on June 6.
"We've been asked that question about 337,000 times," Kevin Richardson explained. "It's subjective. It's how you feel about it. It's how you interpret it. It's what it means to you, like all art should be." He then added that they "thought we'd have fun with [Chrissy] and just give her an answer back that really didn't mean anything."
"Sometimes the best answer is no answer at all," added AJ McLean.
Well, OK then.
McLean also reminisced on the carpet about that time the Boys appeared on Lip Sync Battle. "[Chrissy] was fangirling, it was awesome," he said. "It was really cute… She had posters of me and [Nick] in her dressing room…while she was eating her chicken nuggets, cause she was pregnant. It was perfect."
And just like that, I don't even care about the song anymore, because I just wanna be eating chicken nuggets with Teigen in her dressing room. *Sigh* At least, this whole exchange gives me the perfect excuse to re-watch Nick, AJ, and Gigi Hadid's epic lip sync of "Larger Than Life," so I'm just gonna go ahead and leave this here: