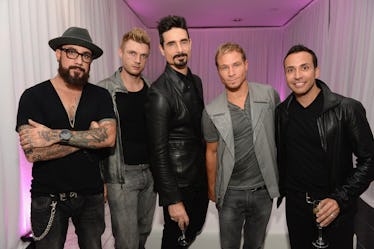 The Backstreet Boys Dropped A Music Video For Their New Song & It's SO '90s
Michael Kovac / Stringer / Getty Images
STOP THE PRESS, EVERYONE, BACKSTREET'S BACK, ALRIGHT! You know what that means? It means it's time to rock your body. It's time to be larger than life. It's time to quit playing games with my heart. And no, this is not a drill — the Backstreet Boys have actually debuted new music on Thursday, May 17, and my 13-year-old self is fangirling so hard right now. But wait, it gets better, because we see Nick Carter, AJ McLean, Howie Dorough, Kevin Richardson, and Brian Littrell all dancing their hearts out once more. Yup, the Backstreet Boys' "Don't Go Breaking My Heart" music video is what all '90s dreams are made of.
I'm going to be honest with you, dear readers. I thought that new music from the Backstreet Boys could go either way: It would either be something I freaking loved, or something that angered me to no end, feeling like it just wasn't the same as the BSB I knew back in the day. I'm thankful now to say that I am part of the former and not the latter. The song is catchy AF, and the video shows that they've still got the moves, despite most of them being 40-year-old men (that thought made me shudder just a bit, though).
If you don't believe me when I say this song is not only good, but will also give you some serious nostalgic vibes, you should check it out below:
I mean, really, what more could we want from our boys? Suave, smooth dance moves? Check. Y2K-style backdrop? Check. Bitchin' new wardrobes? Check! It's all right there in under four glorious minutes.
Kevin Richardson spoke to Billboard about hearing the song for the first time, and how the band connected to it immediately. He said,
The minute we heard this song, we knew it was special. I geeked out over the piano and synths. When that groove drops on the second verse, COME ON. Great verse, hook, and melodies. Just makes you wanna listen over and over again.
You know what, Kevin? You're not wrong, because I honestly want to keep listening to it on repeat. Perhaps it's because it's a good song, or maybe it's just the sheer fact that it was sung by the Backstreet Boys in the year 2018.
What a time to be alive.
If you're feelin' this tune as much as I am, you'll be happy to know that the BSB are going to be touring this summer to support the new single (yes) before heading to Las Vegas, where they have residency for their Backstreet Boys: Larger Than Life Las Vegas show that is headlining at the Axis at Planet Hollywood Resort & Casino (double yes).
Twitter obviously had a field day over this new music, because it's not very often that a '90s boy band makes a comeback quite like this. And by that, I mean so friggin' '90s. Seriously, it's been 25 years since they began making music, so dropping a fire track is pretty damn impressive.
Many fans couldn't contain their overwhelming joy:
Others were like, "Duh, of course this song is pure excellence, the BSB are legendary":
And some fans just completely forgot what year it was:
LOL, for real tho.
If you were too young to appreciate the Backstreet Boys when they were in their heyday, let me just fill you in on how wild things got with The Boys. Back in March 2017, Nick Carter told Elle that if things like Twitter and Instagram were around in the '90's, then fans would have had a completely different and more ~scandalous~ look into their world. He said,
I'll tell you this: There is some sh*t that AJ [McLean] and I both did that I'm really glad that social media wasn't around for. Because Justin Bieber couldn't hold a candle to what we did.
And here we thought the Biebs has seen some sh*t. Nah, man. Bieber has nothing on the BSB.
I think we can all agree that this news has made our day. Hell, it's made my year! Backstreet Boys forever.