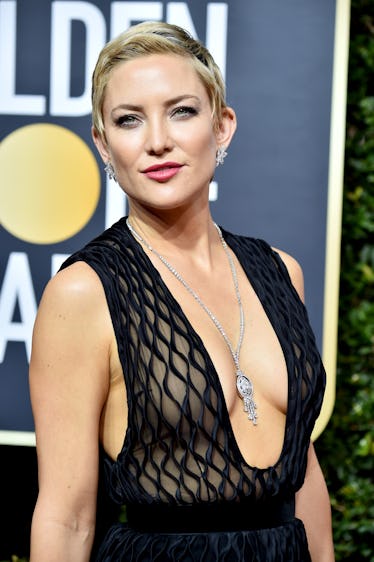 Kate Hudson Gave Birth To A Baby Girl & Her Name Is Seriously Beautiful
Frazer Harrison/Getty Images Entertainment/Getty Images
Back in April 2016, Kate Hudson announced on Instagram that she was having a baby girl. And now, that baby has finally arrived. Kate Hudson gave birth to a baby girl on Tuesday, Oct. 2, and her family, friends, and fans couldn't be happier! The baby's name is Rani Rose Hudson-Fujikawa and the meaning of Rani for Hudson and Fujikawa is seriously so beautiful.
The birth was announced on Oct. 3 via Hudson's Instagram. Rani is the first child for Hudson and her boyfriend Danny Fujikawa, which is why her name has such a special meaning to both of them.
"We have decided to name our daughter Rani (pronounced Ronnie), after her grandfather, Ron Fujikawa," Hudson explained in a series of pretty and pink images posted to her Instagram. "Ron was the most special man who we all miss dearly. To name her after him is an honor. Everyone is doing well and happy as can be. Our family thanks you for all the love and blessings that have been sent our way and we send ours right back."
Check out Hudson's post celebrating Rani's birth below:
Rani is Hudson's third child. She's already mom to 14-year-old son Ryder with Chris Robinson and 6-year-old Bingham with Matt Bellamy. So, she's definitely experienced when it comes to motherhood. Hopefully, she'll be able to coach Fujikaway along for the ride.
Hudson and Fujikawa, who have been dating since March 2017, announced that they were having a baby on Instagram back in April. The announcement came after Hudson spent months lying low. The Instagram post marked her return to public life as well as a new chapter in her journey.
In her Instagram post announcing the baby, Hudson explained in detail her absence from social media as well all the ups and downs of her pregnancy:
SURPRISE!!! If you've wondered why I've been so absent on my social channels it's because I have never been more sick! It's was the most sick first trimester of all my children. Boomerangs have made me nauseous, Superzoom is an easy way to have my head in the toilet, food instagrams make me queezy and thinking too much about insta stories made me even more exhausted than I already had been.
A surprise, indeed! Hudson also explained that she and her boyfriend had been trying to keep her pregnancy "under wraps":
If you've seen me out and about smiling and pretending like everything is amazing...I was lying! BUT! I have broken through on the other end of that and rediscovering the joys of insta/snap. We have been trying to keep this pregnancy under the radar for as long as possible but I'm a poppin now! And it's too darn challenging to hide, and frankly hiding is more exhausting then just coming out with it! My kids, Danny, myself and the entire family are crazy excited! A little girl on the way 💕
Here's a look at the video that accompanied her sweet message:
She and the rest of her guests are so clearly ecstatic that she's having a girl. And now that baby girl is here.
Congratulations, Kate and Danny!