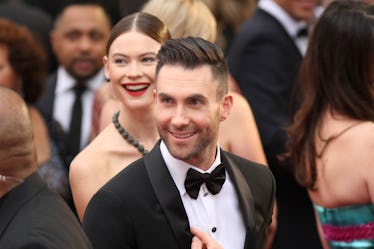 The Meaning Of Adam Levine & Behati Prinsloo's Second Daughter's Name Is So Deep
David McNew/Getty Images Entertainment/Getty Images
Adam Levine and Behati Prinsloo have welcomed their second child, and it's another girl, you guys! The new addition joins 16-month-old big sister Dusty Rose, and her name is just as unique. The Maroon 5 frontman and his Victoria's Secret model wife have chosen to name the new bambino Geo Grace Levine. So cute, right? But it turns out, the meaning of Geo for Adam Levine and Behati Prinsloo is actually so deep.
UPDATE: According to an Instagram post from Behati Prinsloo, her new daughter's name is spelled Gio and not Geo.
EARLIER: The word "Geo," according to Dictionary.com, means "earth" or "of the earth." It's also used at the beginning of words that refer to "the whole of the world." Meaning little Geo Grace is now Levine and Prinsloo's whole world — it just doesn't get better than that, does it? Either that, or these two just really love science. And who knows, maybe little GG — I'm calling her that, OK? — will grow up to have a kickass STEM career one day.
The couple — who have been married for three years and welcomed their first child, Dusty Rose, in September 2016 — revealed that they were expecting again on Sept. 13, 2017. Prinsloo posted a picture on Instagram that revealed her tiny bump, and captioned it, succinctly, "ROUND 2....."
She didn't give us any clues about how far along she was, but she looks pretty amazing, right? Supermodels — they're exactly nothing like us!
And check out this second bump update — bumpdate? — she shared back in November:
I am so digging the whole celestial vibe she's got going on there, aren't you? And she went for it again in January with this shot:
"Two babies in two years, I'm excited to see my toes again," she wrote in the caption. OK — so maybe she is a little bit like us. For his part, Levine shared a belly pic of his glowing wife just yesterday, Feb. 15, which must have been taken not long before she ended up giving birth.
"My maniac," he captioned the shot of Prinsloo sprawled on the bed with a leopard blanket and a bunch of Valentine's Day chocolates. And hello, are these two total #CoupleGoals, or what? Back in August, the proud mama waxed poetic about not just her life with the "Payphone" singer, but also about her first year of motherhood.
"I love Adam, and when you get married and you fall in love with someone, you think that there's no greater love than that love," she told People. "And then you have a baby, and it's just next-level love."
So sweet! Now go ahead and multiply that feeling by TWO! Or by 100, if Prinsloo has her way. "I want a lot [of kids], I thrive in chaos," Levine explained when he dropped by The Ellen DeGeneres Show recently and revealed that the couple was having another girl. "[Prinsloo] was an only child, so she wants like 100 babies. I don't know if I can do that. That's a lot of babies."
Uh... you think? That's a whole lot of adorably original names to have to come up with, too. And while I am seriously loving the whole Geo thing for Levine and Prinsloo's baby girl — after all, it rhymes with "Neo," which makes me think of Keanu Reeves' character in The Matrix, and that's just totally badass, you know? — the internet, of course, seems to have some mixed feelings about the name.
Whatever. I am totally here for Geo Grace. It's super cute, the "GG" nickname is fire, and "Geo" and "Dusty" are just such wonderfully earthy names that fit together so nicely. So congratulations, guys! Oh and P.S. — my money's on Rose Quartz for the next one.