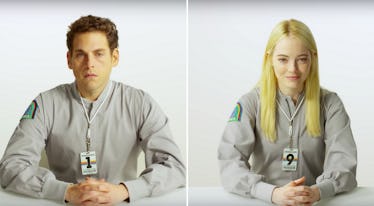 Emma Stone & Jonah Hill's Netflix Show Finally Has A Trailer & I'm Already Hooked
Netflix
The last time that we saw Emma Stone and Jonah Hill on-screen together, they were awkward teenagers in the 2007 sex comedy Superbad, but their new project together looks like the polar opposite of that. The actors are teaming up again, but this time, it is for a trippy-looking pharmaceutical series on Netflix called Maniac, and we are just now getting our first look at the enigmatic new show. The Maniac trailer shows Emma Stone and Jonah Hill in a totally new light... or, actually, in a bunch of new lights.
Maniac will star Emma Stone and Jonah Hill as participants in a groundbreaking new pharmaceutical study that promises to forever fix their problems. Netflix dropped a bunch of info about the plot of the new show, which is being described as a limited series black comedy, at the Television Critics Association press tour over the weekend. Stone will play Annie Landsberg, an aimless woman who is fixated on her fractured relationships with her mother and sister, and Hill will play Owen Milgrim, the son of wealthy New York elites who struggles with schizophrenia. Annie and Owen are among the twelve participants in a three-day drug trial at Neberdine Pharmaceutical and Biotech, which promises to repair anything about the mind — be it mental illness or heartbreak — without any side effects.
Netflix has also unveiled the psychedelic first trailer for Maniac, which shows Emma Stone's Annie and Jonah Hill's Owen silently sitting at a table and staring at one another in Neberdine Pharmaceutical jumpsuits, as various colored lights begin to flash. Through narration, the man who invented the drug trial, Dr. James K. Mantleray (played by Justin Theroux), claims that he can fix any mind:
Once you begin to appreciate the structure of the mind, there's no reason to believe that anything about us can't be changed. The mind can be solved.
Check out the first trailer for Maniac below:
Along with Emma Stone and Jonah Hill, Maniac will co-star Sonoya Mizuno (La La Land, Ex Machina) as Dr. Fujita, and Billy Magnussen (Into the Woods, Ingrid Goes West) in an undisclosed main role. The series will also have Justin Theroux recur as the creator of the drug trial Dr. James K. Mantleray, and Sally Field will recur in an undisclosed role. Also recurring are Girls star Jemima Kirke and Ozark star Julia Garner.
Maniac comes from auteur director Cary Fukunaga, whose television projects before this include the first season of HBO's True Detective and the period thriller The Alienist. Fukunaga is actually adapting Maniac from a 2014 Norwegian comedy of the same name, although it looks like the Netflix version will be vastly different from the source material. The Norwegian Maniac sounds like more of a straight-forward comedy, according to a description from Inverse, which follows a man in a mental asylum who often escapes into grand fantasies of a lavish life. While Fukunaga's Maniac is described as a black comedy, as you can probably tell from the trailer, it looks like the emphasis might more on the black and less on the comedy.
Maniac is set to premiere on Sept. 21 on Netflix.