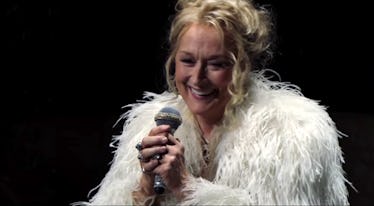 The 'Mamma Mia' Sequel Trailer Is Here With The Entire Original Cast & It's Everything
Universale Pictures
Here we go again, Mamma Mia! fans. The trailer for the movie musical's sequel just dropped, and it is the perfect mix of favorites from the original 2008 movie and exciting new faces belting their hearts out to ABBA songs. Let's jump right in and break down the colorful new Mamma Mia! Here We Go Again trailer, with everything from young Meryl Streep to an opulent cameo from none other than Cher herself.
First, a little recap about what happened in the first movie, so you can better understand what is going to happen in the sequel. Mamma Mia! involved 20-year-old bride-to-be Sophie (Amanda Seyfried) inviting three men from her mother's past that she believed could be her father to their Greek villa. Sophie's mom Donna (Meryl Streep) reconnects with her three former flames over the course of the next few weeks, and in the end, they decide not to reveal Sophie's true paternity, opting that each man be one-third her father. In the end, Sophie delays her wedding with Sky (Dominic Cooper) so they can travel the world before marrying, and each of the three men makes a revelation: Sam (Pierce Brosnan) proposes to Donna and she says yes, Bill (Stellan Skarsgård) hooks up with Donna's friend Rosie, and Harry (Colin Firth) comes out as gay.
The new movie will be split in half: partially telling the story of Sophie's pregnancy with her first child, and partially flashing back to Donna's youth when she first met Sam, Bill, and Harry. Check out the music-filled new trailer for your first look at Mamma Mia! Here We Go Again:
The first thing you are probably going to notice (if you're anything like me) is that sadly, it looks like Meryl Streep's role in the sequel will be much smaller than in the first movie. In fact, the trailer seems to be suggesting that Streep's character of Donna may have died. The present-day storyline will focus mostly on Amanda Seyfried's Sophie and Donna's best friends, Tanya Chesham-Leigh (Christine Baranski) and Rosie Mulligan (Julie Walters) returning to the Greek villa to help her along through her first pregnancy, but mostly to reminisce about Donna, it seems. The conceit definitely looks like something that would happen if Donna had died... why else would Sophie need her mom's best friends to come and be there for her?
The flashback half of the movie will be all about Donna, but Meryl Streep won't be playing the part. To portray the 20-something Donna that first meets Sam, Bill, and Harry and becomes pregnant with Sophie, Lily James is putting on the breezy overalls. James is fresh off the success of her acclaimed 2017 action flick Baby Driver, and Downton Abbey fans know her as Lady Rose MacClare. It looks like James will be the real star of this new movie, although the credited cast does reveal that Meryl Streep will in fact be in part of Here We Go Again — just don't expect to see her all that much.
But aside from all this plot structure, the real most exciting part of Mamma Mia! Here We Go Again can be summed up in just one word: Cher! The iconic singer revealed a couple months back that she would appear in the anticipated sequel, and this trailer finally gave us an epic first look at her character. At the very end of the trailer, we see the absolute picture of opulence strut out of a helicopter: a blonde, sunglassed woman decked out in white and gold.
As Sophie reacts with "Grandma, you weren't invited," Cher's role in the movie is clarified: She will play Donna's mother and Sophie's grandmother Ruby, and her line delivery (topped off with a coy peek over her sunglasses) confirms that Ruby Sheridan will deliver on all the sass you could want in the film.
Mamma Mia! Here We Go Again will sail into theaters on July 20, 2018.