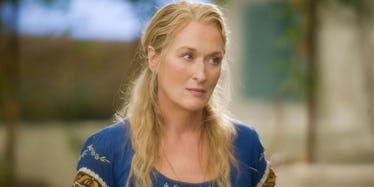 'Mamma Mia' Is Getting A Sequel, And They Cast To Perfect Young Meryl Streep
Universal Pictures
My, my, how could we resist a Mamma Mia sequel!? The movie musical is officially coming back for an encore and adding a young version of Meryl Streep's character of Donna Sheridan to the cast.
Obviously, playing the same role as Meryl Streep is incredibly daunting, but the actress that's been cast seems like a perfect fit. Lily James, who just had a star-making turn opposite Ansel Elgort in Baby Driver, has signed on to play "Young Donna" in the upcoming Mamma Mia: Here We Go Again!, according to Deadline.
Apparently, the new sequel will be partly set in the present-day, with Meryl Streep playing Donna, and partly set in the past, with Lily James playing Donna in flashbacks. The rest of the main cast from the original film (Amanda Seyfried, Pierce Brosnan, Colin Firth, Dominic Cooper, and Christine Baranski) will also reprise their roles in the sequel.
James, who got her start in the London theatre scene, has toplined recent movies like Pride and Prejudice and Zombies and 2015's Cinderella, along with recurring in the later seasons of Downton Abbey.
She also proved she could carry a tune in Cinderella, singing "A Dream Is a Wish Your Heart Makes." So a musical like Mamma Mia shouldn't be too much of a leap for her.
It'll be interesting to see what the soundtrack to for the new movie will look like. Like the original stage musical, Mamma Mia was entirely scored by the hit songs of ABBA. Yes, ABBA has a ton of hits, but with all of the group's hit songs already covered in the first movie, the sequel might have to add some more variety to its pool of artists.
Mamma Mia: Here We Go Again! is set to come out on July 20, 2018, almost exactly a decade after the original came out in 2008.