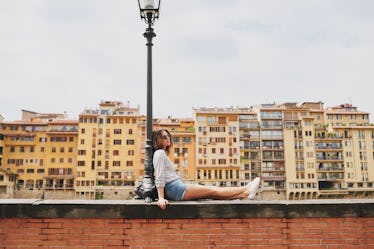 The Life Lessons I Learned From Studying Abroad Are Still So True In My 20s
If you met me for the very first time today, I would probably talk to you about two things: my latest snack finds at Trader's Joes and the amazing memories I have from studying abroad in Florence, Italy. I can't help it, because that semester filled with cobblestone streets, bowls of delicious seafood pasta, and long weekend trips to other countries in Europe was totally life-altering for me. It taught me so much about myself, the "real world," and what I'm passionate about, and treated me to endless cups of berry gelato in-between my art history classes. Now, I could tell you about the trips I took, or the restaurants I ate at, but I'd rather take some time to cover the life lessons I learned from studying abroad that are still with me.
These are the lessons that have carried me through my 20s, and will stick with me into the next decades of my life, too. They're a sweet and constant reminder of why studying abroad is a unique experience that you really should take advantage of when you're in college. They're also the sole reason why I'll always be the girl who raves about traveling in general.
Within those five months, I was exposed to lots of different cultures and picked up a new language, and it led me to catching flights and booking more trips once I got back to the United States. These are the five lessons that stick with me the most, though.