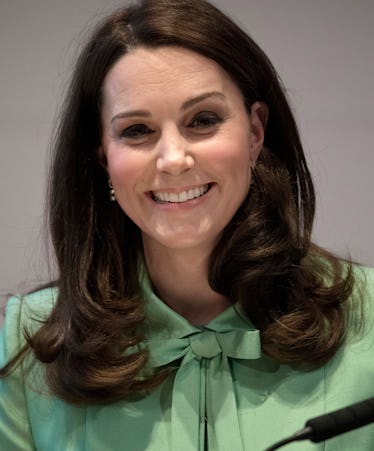 Kate Middleton's Latest Outfit Is An Ode To '90s Fashion & Princess Diana
WPA Pool/Getty Images Entertainment/Getty Images
Meghan Markle is the talk of the town these days, but her future sister-in-law, Kate Middleton, is equally newsworthy. While Prince William's wife is mere weeks away from having the couple's third child, fashion waits for no unborn royal baby. The latest photos of Kate Middleton show that her style never slows down — not even during the third trimester of her third pregnancy —and that her outfit inspo stems from an unlikely source.
Middleton is a stylish woman in her own right, but she looks to be following in the footsteps of another chic lady: Princess Diana. Prince William's late mother was a major '90s fashion icon, and as you may have heard (or been incessantly accosted with), '90s fashion trends are back.
Princess Diana's '90s style was a little different than mine and yours probably was. She was one of the most famous members of the British royal family, which translates to "no grunge allowed." Diana never wore choker necklaces or ripped jeans (at least not out in public), and instead opted for a more polished style of coordinated pastel suits.
Princess Diana was known for her love of bright colors and bold ensembles and she had a particular affinity towards all things green — she even became a Philadelphia Eagles fan because of the color! Now where have I seen green recently?
Oh that's right, Kate Middleton just wore a pale green ensemble that would have made Diana v proud. Princess Diana's green styles ranged from dark, emerald green coats to lime green gowns and pale green suits. Middleton has here taken a cue from the paler green styles that her husband's late mother favored so much. You can see some of Princess Diana's green looks here, but keep reading below to find out more about Middleton's outfit, and delve even further into the story behind the so-spring hue.
Middleton attended a Royal Foundation symposium on March 21 to discuss childhood mental health, an issue close at heart for her, Prince William, and Prince Harry. The Duchess stood out at the panel in a mint green Jenny Packham coat and dress. Those items aren't currently available for purchase, so they're likely custom-made maternity pieces. Middleton also wore Gianvito Rossi Neutral Suede Pumps ($675; bergdorfgoodman.com) and Kiki McDonough Kiki Classic Cushion Drop Earrings in Green Amethyst ($2,095; neimanmarcus.com). Wearing heels at all, let alone when she's so far into her pregnancy? Middleton makes it look easy. (I hope she's actually comfortable, more power to her!)
The most dazzling accessory of the look was Middleton's engagement ring, which used to belong to none other than Princess Diana! If Middleton didn't have such dark brown hair I would've had to do a double take to make sure it was really her. Princess Diana may not be Middleton's only source of fashion inspiration, though...
Queen Elizabeth is a big fan of green, too! Particularly green coats, just like Middleton wore, and much of the time even pale green. Princess Diana may have put the style on the map but it looks like she got inspiration from someone else, too.
This 2005 look from the queen has a bow detail by her neck, very similar to Middleton's Jenny Packham coat.
The Queen sometimes opts for brighter shades of green, but according to royal fashion rules, the flashy colors are so that she stands out in a crowd. Can you imagine the Queen in a brown coat? I can't even.
Green has been a favored color of the Queen's for a while, but she most recently wore it on March 15, 2018, less than a week before Middleton's March 21 look.
As the saying goes, imitation is the sincerest form of flattery, so the queen must be flattered AF. And as for me? Color me green with envy over these royal looks.