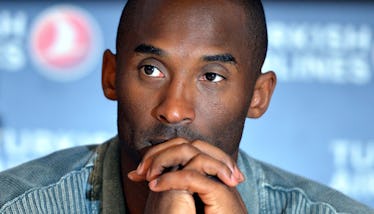 The Celeb Tributes To Kobe Bryant At The Grammys Are So Heartfelt
Anadolu Agency/Anadolu Agency/Getty Images
Just hours before the 62nd Annual Grammy Awards kicked off on Sunday, Jan. 26, news broke that shook absolutely everyone. Earlier in the day, NBA legend Kobe Bryant and his 13-year-old daughter, Gianna, died in a helicopter crash. Of course, Bryant's death weighed heavy on the hearts of all the stars attending the Grammys, and the Kobe Bryant tributes at the Grammys showed just how much he meant to everyone in the entertainment industry.
The LA County Sheriff's Department confirmed in a tweet on Jan. 26 that nine people, including Bryant and his daughter, died in the helicopter crash in Calabasas, which just out side of Malibu, earlier in the day. The shocking news hit especially hard for everyone attending the 2020 Grammys since the music event takes place at the Staples Center, the home court of Bryant's team of 20 years, the Los Angeles Lakers. Prior to the red carpet for music's biggest night, several celebrities took to Twitter and Instagram to share their heartbreak over the news of Bryant's death, and to send their love to Bryant's wife, Vanessa, as well as the rest of his family. And Bryant's spirit was very clearly present throughout the entire night of the awards show.
Alicia Keys addressed the heaviness in the room right away. She opened her monologue by saying, "Here we are, together, on music's biggest night celebrating the artists that do it best, but to be honest with you, we're all feeling crazy sadness right now. Because, earlier today, Los Angeles, America, and the whole wide world lost a hero." She focused on the importance of the award show taking place at the Staples Center and holding your loved ones a little closer today:
And we're literally standing here heartbroken in the house that Kobe Bryant built. Right now, Kobe and his daughter Gianna, and all those who have been tragically lost today, are in our spirit, they're in our hearts, they're in our prayers, they're in this building, and I would like to ask everybody to take a moment and just hold them inside of you. Hold them inside of you and share our strength and our support with their families. We never imagined in a million year's we'd have to start the show like this. Never, never, never, never.
Keys then moved into a musical tribute, which included Boyz II Men, to "describe a tiny bit how we all feel right now." The host/singer and the boy band sang an emotional version of Boyz II Men's "It's So Hard To Say Goodbye To Yesterday."
After the performance, Keys continued the tribute to the basketball legend: "I know that we're going to all join together and do what we do in happy times and in challenging times. We're going to sing together, we're going to laugh together, we're going to dance together, we're going to cry together, we're going to bring it all together, we're gonna love together, and we're gonna make sure that we are celebrating the most powerful energy, the most beautiful thing in the world.."
Keys closed sharing how the show can help bring everyone together. She said, "The one thing that has the power to bring all of us together, and that's music. It's the most healing thing in the world."
A few celebrities spoke about the incredible loss before the show. On E!'s red carpet coverage, Diplo shared he was in disbelief when he first heard the news, and he underlined how surreal it was to be at the Staples Center on the same day: "I didn't believe it at first. I still don't believe it. It's devastating. It's sad." He also related to being a father and the same age as the basketball legend. He shared, "I can't imagine losing one of my children or a father, or a family member. And he was so young — my age, 41. And he had so much more to do." Finally, he spoke to how fitting it is to be at the Staples center on the same day:
And to be here at Staples right now, and to look up, you see his jersey up there, and you just feel that energy. We're doing the Grammys right here, but 82 games a year of playing in this stadium — sorry, this arena — and Kobe brought this energy to Los Angeles for 20 years... He transcends iconic. He's going to live forever. I mean, I think he's gonna be around forever. I think, in this building, he left so much creative energy — and an athlete like him, that's a creative genius.
Rick Ross also reacted to the sad news while walking the carpet, calling it a "huge loss" and referring to him as "a great example in so many different ways."
Billie Eilish shared her sentiments as a fellow Angeleno. Her reaction was complete devastation, and it left her at a loss for words. She shared, "I'm devastated. I… I don't know what else I can say. … I feel like anything I say is not enough for what's going on. … My love to his whole family and everybody he knows."
Rapper and actor Common shared his thoughts about the devastating loss while talking to Ryan Seacrest on the E! Red Carpet: "In these situations, I'm just doing my best to just give it to the creator and just spread the joy that we can have, and just think about the positive things and send as much love to his family." He continued, illustrating how the loss is being absorbed by fans and loved ones:
We all feel it, and feel it in our own way, but his family and his loved ones feel it in another way. ... Today we can celebrate through music and different things. But there's nothing that can take way what life is. And I just wanna say God bless his soul and his daughter and everyone who was on that helicopter ... we love him.
Singer-songwriter H.E.R. spoke to the effect Bryant had on her. She shared, "Kobe inspires me and kind of gives me motivation because of his drive and how hard he works. I kind of want to channel that same energy." Bryant was known for his hard work ethic, which is what struck a cord with the singer, as she shared, "Everyone knows Kobe for how hard he works. I just really look up to that. He's a legend."
DJ Khaled was previously preparing for a Nipsey Hussle tribute, and when the devastating news broke, he expressed his devastation and shared how the Black Mamba would be remembered as well. He said, "We're also going to pay homage and show love to Kobe Bryant and his daughter, Gianna. The news is devastating. It's hard to even talk about it and celebrate. But what we're going to do is we're going to uplift spirits and pay homage and show love, because like Nipsey would say, 'The marathon continues.'"
Once the show began, Lizzo prefaced her performance with a simple, all-encompassing tribute: "Tonight is for Kobe."
Prior to the awards show, Recording Academy reps confirmed to Billboard that the organization was working quickly to add a proper tribute to Bryant to the ceremony. The ceremony had already announced tributes to Nipsey Hussle, Prince, Ken Ehrlich, and John Prine would take place during the night.
On social media, there was an even stronger outpouring of love and heartbreak.
The tributes for Bryant and his daughter poured in throughout the show. As music's biggest night unfolded, it became clear everyone was remembering the legend in the house that Kobe built.