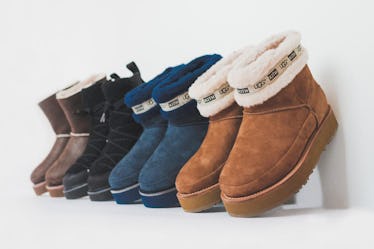 KITH Women & UGG Collaborated On The Absolute Coolest & Coziest Boot Drop Of The Season
KITH
GUYS. Get your wallet and feet ready because the absolute raddest footwear collaboration of the season was just announced, and it's the ideal combination of comfy and cool. The KITH Women x UGG collection is four styles of your favorite shearling boots with unexpectedly incredible twists, and trust me, they are nothing like what you were wearing in high school. If you've been looking for the final piece de resistance to add to your holiday wishlist, then congratulations, you've definitely just found it.
It's pretty much a given that any collaboration with the KITH name attached to it is going to be good. The brand is peak style when it comes to all things streetwear and is known for edgy and inspired takes on classic staples. I would argue that the UGG boot has become somewhat of a classic staple, at least within my generation's repertoire, so it makes sense that KITH would be keen to execute a few of their own takes on the the shearling-lined shoe. To be clear, the brand's re-imaginings are anything but uncool, so if the thought of pulling on UGG boots again makes you cringe, I implore you to stay with me and check them out before making your decision.
First up is the Sherpa Mid Boot, which is the closest of the three new designs to the original UGG boot. It features an extra chunky sole, which gives it a decidedly modern and elevated (literally) feel, as well as a shearling-rimmed collar, which looks cozy AF. The sheepskin is also rimmed with a KITH and UGG branded stripe, which taps into the logomania trend that's taken over high fashion runways as of late.
Available in both Navy and Chestnut, the boot is something I would totally wear on an everyday basis. It's upgraded normcore at its absolute best and would pair just as well with jeans and a tee as it would with a cool bohemian maxi dress. Plus, it looks like it would make your foot feel like it was receiving a soft and supportive hug. That's all I could really ever ask out of my footwear.
Next within the lineup is the Combat Boot. It's a mixture between a cool hiking boot and a more traditionally punk style, meaning it's right on trend this winter. It also happens to be my favorite boot out of the bunch for its versatility and sleek, high-brow design and could transition from the great outdoors to the office seamlessly. It also features a super chunky tread, while its lace-up design sets it miles apart from the Sherpa style. A strip of shearling on the front of the boot adds an unexpected twist. As someone whose wardrobe is composed primarily of black items, I need these in my life.
And finally, there's the Buckle Boot. It's an adjusted take on the Sherpa boot thanks to two buckles that have been added to the outside of each boot, and it's dark brown in color. It's the perfect everyday boot and is another one that looks like it would feel like a slipper.
The collection will be available on Dec. 8, at 11 a.m. ET at all KITH shops and at kithwomen.com. Which pair are you adding to your list?