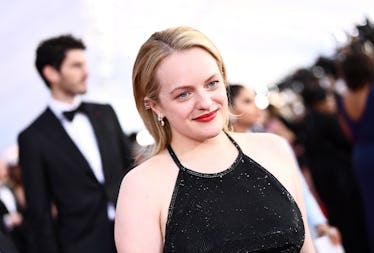 Tiffany Haddish, Melissa McCarthy, & Elisabeth Moss Are In A New Mob Movie & We Can't Wait
Emma McIntyre/Getty Images Entertainment/Getty Images
Stop the presses, because the most anticipated movie of 2019 just got even better: Elisabeth Moss has just signed on to The Kitchen, a mob drama co-starring Melissa McCarthy and Tiffany Haddish. Elisabeth Moss, Tiffany Haddish, and Melissa McCarthy? Name a more iconic trio. I'll wait.
The Kitchen follows three wives of Irish mobsters who are forced to take over their husbands' business after they are arrested by the FBI. According to Variety, the women soon "become the most ruthless and powerful gangsters in 1970s Hell's Kitchen," and the three leads each have important roles to play in maintaining their newfound power. Moss plays "a timid wife of an abusive husband who falls in love with the violence of her new life," McCarthy will play "an adoring mother who leads the women's charge to take over the business," and Haddish will go against her usual goofy type in the role of "a woman willing to kill anyone in the way of her plan," reports The Hollywood Reporter.
The Kitchen is based on a DC Comics series of the same name from Ollie Masters and Ming Doyle, but Straight Outa Compton writer Andrea Berloff adapted the comic into an original script. Berloff will also direct the movie, which is fitting: who better than to direct a female-lead mobster movie than a female writer/director? The Kitchen will be Berloff's feature debut, but with expert stars like McCarthy and Moss surrounding her, I have a feeling she'll be more than OK, and fans seem to agree.
Berloff isn't the only person trying something new with The Kitchen: the mob drama is a huge departure for McCarthy and Haddish, both of whom are known for their comedic roles. Obviously, McCarthy has proved that even when she's in a funny role, she can be a little serious underneath all that humor (it's Megan who's able to cheer up Annie in Bridesmaids, remember?). But Haddish is newer to the game, and even though she's amazing in Girls Trip, taking on a serious role probably doesn't come as naturally to her. That being said, I believe that both stars will absolutely slay in The Kitchen and maybe even add a little levity to some pretty serious scenes. The Sopranos never shied away from adding in a little humor, so who says a mob show can't be funny?
Of course, Moss is an expert at taking on literally the most depressing and dramatic roles of all time. While Peggy on Mad Men was able to succeed at the high-stakes advertising game, she had to sacrifice a lot to get there — and put up with constant rude comments about a woman's role in the workplace. In Top of the Lake, Moss played an Australian detective who had been gang raped as a teenager and was forced to relive her trauma whenever a violent case came through the police department. And in The Handmaid's Tale, Moss' Offred/June is trapped in a patriarchal dystopian society that sees women only as vessels for children, not as equal human beings. I'm not saying that Moss accepted a role in The Kitchen because she wants to kick some dude ass, but maybe she's finally ready to get revenge on all the men who have wronged her in her previous dramatic roles.
The Kitchen isn't set to premiere until September 20, 2019, so there's plenty of time for fans to get ready for what's sure to be an iconic combination of star power. Will Haddish wear that now-famous white dress to the premiere? Will Moss have won another Emmy for The Handmaid's Tale by the time 2019 rolls around? Will the three stars take cute photos that make everyone wonder why they didn't collaborate sooner? I have so many questions. September 2019 can't come soon enough.