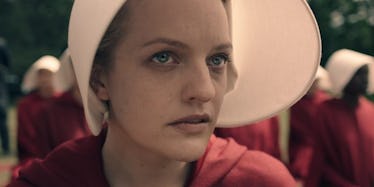 Elisabeth Moss Gave A Badass Emmy Acceptance Speech For Best Actress In A Drama Series
Hulu
As we head into possibly the worst fall TV lineup in many years, we get to take one wistful glance backwards at last year's great TV at the 2017 Emmy Awards. There was plenty of great television honored on Sunday night at the 69th (nice) Primetime Emmy Awards. (And even if you didn't agree with the nominations, you have to admit the whole thing is worth it just to have host Stephen Colbert back your TV screen.) But in my totally biased opinion, the absolute best category this year was Lead Actress In A Drama Series at the 2017 Emmys. The Handmaid's Tale Star took home the award in the end — but why was Elisabeth Moss bleeped at the Emmys?
So many awesome, talented ladies who made me feel all the things with their performances this year. The category had six nominees: Viola Davis (How to Get Away With Murder), Claire Foy (The Crown), Elisabeth Moss (The Handmaid's Tale), Keri Russell (The Americans), Evan Rachel Wood (Westworld), and Robin Wright (House of Cards). Unfortunately, as is the nature of award shows, there could only be one winner. And the winner was...
Elisabeth Moss!!! Moss was nominated for role as Offred/June in The Handmaid's Tale, Hulu's popular television adaptation of Margaret Atwood's classic dystopian novel. Despite Moss's odd comments that she didn't consider the story feminist, audiences generally agree that she did a fantastic job looking enraged at the oppressive patriarchal regime. Moss has previously been nominated for Emmys for her role in AMC's Mad Men five times, but never won.
When Moss accepted her Emmy she thanked Hulu, the academy, her fellow nominees, the cast and crew — you know, the usual. She also shouted out Atwood saying,
Margaret Atwood, thank you what you did in 1985 for all of us and for what you continue to do.
She concluded her speech by a particular exuberant thank you to her mom. She thanked her mother for teaching her that "you can be kind and f*cking badass." Of course, CBS bleeped out the swear words while the crowd cheered, but we're pretty sure that's what she said.
But like I said, all the nominees were fantastic, and all of them won the award of my heart. It's true that you can't put my heart on your mantel, so I understand if this is a little comfort to the losers. Still, let's take a moment to commemorate the other nominees for Outstanding Lead Actress In A Drama Series at the 2017 Emmys.
There's Viola Davis, who was nominated for her role as the fearless Annalise Keating in ABC's How To Get Away With Murder. This is Davis's third nomination in the category, and she's already won the Emmy once in 2015. Davis is hot this year, too, having just come off of an Oscar win for the 2016 film Fences.
Then there's 33-year-old British actress Claire Foy, nominated for her role as Princess Elizabeth (later Queen Elizabeth II) in the Netflix original series, The Crown. This period-piece royal drama is still new, having just debuted its first season on Netflix in last November. This is Foy's first Emmy nomination, though she won both the Golden Globe and Screen Actors Guild Award for The Crown earlier this year.
Keri Russell was nominated for her role as KGB agent Elizabeth Jennings in the FX television series The Americans. This is something of a comeback for the 41-year-old actress, who previously starred as Felicity Porter in Felicity  from 1998 to 2002, for which she won a Golden Globe in 1999. Russell was also nominated for a Primetime Emmy for The Americans last year.
Evan Rachel Wood was nominated for her role as an android who is slowly gaining humanity named Dolores Abernathy in the HBO sci-fi series Westworld. Thought it's only the show's first season, Wood has already won the Critics Choice Award and Satellite Award for the role earlier this year, and she was nominated for the Golden Globe and Screen Actors Guild Award as well.
Finally, Robin Wright was nominated for her role as Claire Underwood in the Netflix original series House of Cards. Season 4 was definitely a break-out season for Claire Underwood. Wright has been nominated for the Primetime Emmys for the role a total of four times, though she has never won. Surprisingly, she was not nominated for a Golden Globe for the role this year.
I think we can all agree on one thing: 2017 was a great year for ladies in television.