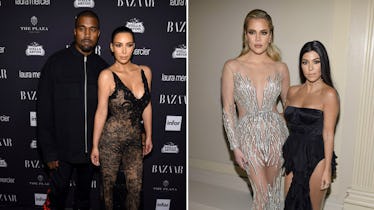 The Kardashians Went Head-To-Head With The Wests On 'Family Feud' & Here Are The Details
Dimitrios Kambouris/Getty Images Entertainment/Getty Images
This next piece of news is wild, y'all. I thought today couldn't get any better, but LORD WAS I WRONG. If you're clearly out of the loop like I am, I'll have you know that the Kardashians will be on another show, but not in the way you'd expect. I'm talking about a game show, and my world is flipped the eff upside down. Yep, the Kardashians Vs. West's Family Feud episode is coming, and I don't think our television sets will ever be the same again.
I know, I know.
How did this magic even begin to happen?
Our friend and game show host Steve Harvey went on The Ellen Degeneres Show and filled us in on all of the glorious details. (Also, I just feel the need to tell you that Steve Harvey is my personal spirit animal. He's smart, he's sassy, and his reactions are always worth watching. I see you, Steve!)
So anyway, Steve Harvey hung out with Ellen and gave the audience a little bit of insight into the special ~celebrity~ episode. Apparently, the Kardashians were supposed to be up against Paris Hilton and her family, but the Hiltons cancelled. The only reason I'm thinking they had to bail was not because of their incredibly busy lives, but because of intimidation, obviously.
Right here's probably a good time to interject and tell you that this post is going to be absolutely littered with Steve Harvey gifs. Enjoy!
"Here's what happened. They were supposed to come, and it was just supposed to be Kris, Kim, and the girls. Khloé, and all of the girls," Harvey said.
Ellen immediately called him out on his bullsh*t, saying, "You don't know their names," and the audience laughs and Harvey doesn't disagree. He does say that he's met "the very rich one," but that doesn't really narrow things down much.
Harvey continues, telling Ellen, "But then, something happened, and their grandmother wanted to play. So they were supposed to play against the Hilton family, but the Hilton's cancelled. So Kanye, who's a big fan of Family Feud, said, 'I want to play, I've always wanted to play,' so he brought his family."
And that, my friends, is how the Kardashian family vs. the West family episode of Family Feud officially began.
And talk about a REAL family feud: Kim wasn't on the Kardashian side! She was with Kanye and his family!
But there was one member on the Kardashian side who wasn't a Kar-Jenner: Jonathan Cheban, Kim's BFF. Harvey said that he was "an extra" and they placed him on the end of the line because he was "a lot."
God, it just keeps getting BETTER.
But my absolute favorite part of Steve Harvey's chat with Ellen was when he talked about how Kanye was "the best celebrity Family Feud panelist" the show had ever seen.
Wait, record scratch. Kanye?
The ever-serious, usually quiet (except when bragging or on stage), never-smiling dude? That Kanye? Crushing it on a game show?
YUP.
Apparently, Kanye turned into another person entirely when up on that Family Feud stage. Harvey told Ellen,
His people said, 'Steve, this is the most Kanye has ever smiled since we've been working for him.' Kanye smiled! When I introduced him, he smiled. When I talked to him... just tune in and you'll see Kanye smile. He was happy. He was very happy that day.
I wish I could say that Kanye smiling is one of the top reasons I want to watch this episode, but there are simply too many reasons to actually prioritize.
And if you think that the West family got lucky by having Kim on their team, Harvey is here to squash those ideas. "Kim didn't know nothing," he said. LOL, Steve, you're seriously too much.
He also said that Khloé is super competitive with Kim, and the two were "firing across from each other" because they were on separate teams, so methinks that things could get very, very dicey.
Very dicey, indeed.
You have to watch the entire interview here, and I promise it will make you a total Team West or Team Kardashian fan after just four delightful minutes:
The only thing that brings me more joy than watching the Kardashian family on reality TV is watching the Kardashian family on game show TV. The world is a beautiful, beautiful place.