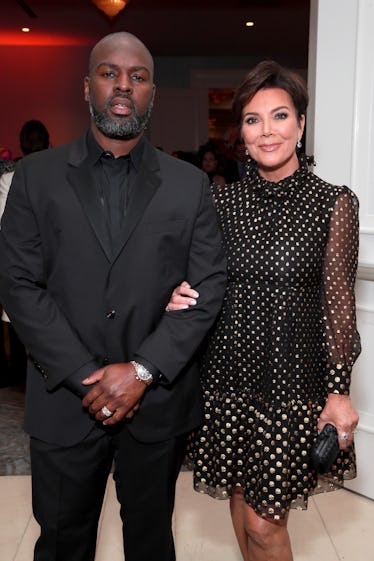 The Kardashian Family's Quotes About Kris Jenner & Corey Gamble Are So Supportive
Rich Fury/Getty Images Entertainment/Getty Images
Kris Jenner and Corey Gamble have been together for what feels like forever, but how does her family feel about their relationship? Well, TBH, the Kardashian family's quotes about Kris Jenner and Corey Gamble literally could not be more supportive. But, before we get into those, let's take a little trip down memory lane.
Cosmopolitan reports that Kris and Corey first met at fashion designer Riccardo Tisci's 40th birthday party in Ibiza back in 2014. Super relatable, I know. By 2015, he had made his way onto Keeping Up with The Kardashians as Kris' love interest. You remember the episode — the one where Kim said she couldn't sleep because she heard banging and "moaning" coming from the room her mom shared with Corey. So, yeah, it's safe to say that things were steaming up between the two lovebirds.
Since then, it seems like the two have been inseparable. Corey's name is now just as synonymous with the Kardashian-Jenner empire as other famous Kardashian-Jenner partners, Kanye West, Travis Scott, and Scott Disick (he's an ex, but obvi he'll always have VIP Kardashian-Jenner status).
But what do Kris' kids really think of Corey? On an episode of The Late Late Show with James Corden, Kris majorly hinted that she and Corey might actually be engaged... which means he may very well be on his way to officially becoming part of the most famous family in the world.
In preparation for their potential holy union and all of the Kardashian/Jenner drama it will cause in future seasons of Keeping Up with The Kardashians, feel free to read the below to find out exactly what each of Kris' children have had to say about her relationship with Corey.